Apple releases MobileMe Gallery software on iPhone App Store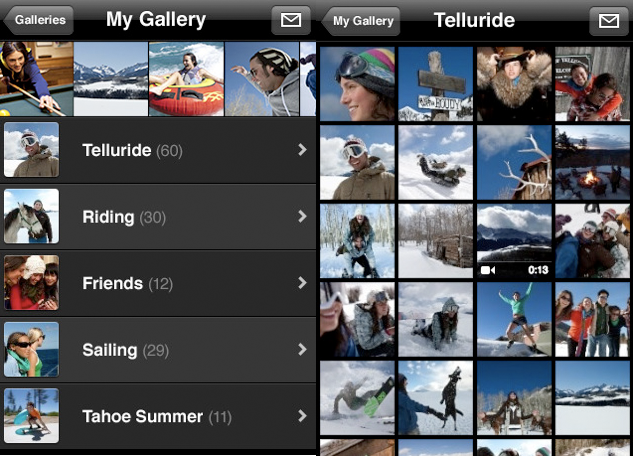 Apple released its fifth first-party App Store application Thursday with the free MobileMe Gallery, allowing users to view photos and videos from the cloud-based service on their iPhone or iPod touch.
The MobileMe Gallery app (iTunes link) lets users select an album with a tap and flick back and forth through photos, pinch to zoom, or rotate into landscape view. The software also automatically stores photos that have been viewed, so they can be accessed again even without a network connection.
Friens' publicly shared content can also be accessed by choosing their name from contacts or entering their MobileMe member name. It also includes a scrolling sampler at the top that gives users access to recent photos.
Users must enter their MobileMe member name and password to see their list of published movies and photos. A MobileMe subscription is required.
The free, 0.7MB application requires iPhone OS version 3.1 or later. Features of the software, according to Apple, include:
View your entire gallery including password protected and hidden albums
Flick through photos and pinch to zoom in for more detail
Rotate iPhone to see photos in landscape
View your friends' gallery photos and movies
Access previously viewed photos when offline
Easily share a link to an album from iPhone
Prior to MobileMe Gallery, Apple released only four total applications on its App Store. Another, MobileMe iDisk, is also centered around the company's MobileMe service. It allows users to access their iDisk anywhere from their iPhone and view popular file types like Microsoft Office and iWork '09 documents and presentations, as well as PDFs.
The other Apple-created applications are Remote, Keynote Remote, and Texas Hold'em. They are in addition to the native applications that come built-in to the iPhone and iPod touch.
With iPhone OS 3.0, MobileMe users were given the "Find My iPhone feature, which can be used to remotely pinpoint a lost or stolen phone. MobileMe is the successor to Apple's .Mac. The service debuted in 2008.