Wintek strike settled in China with no impact on Apple products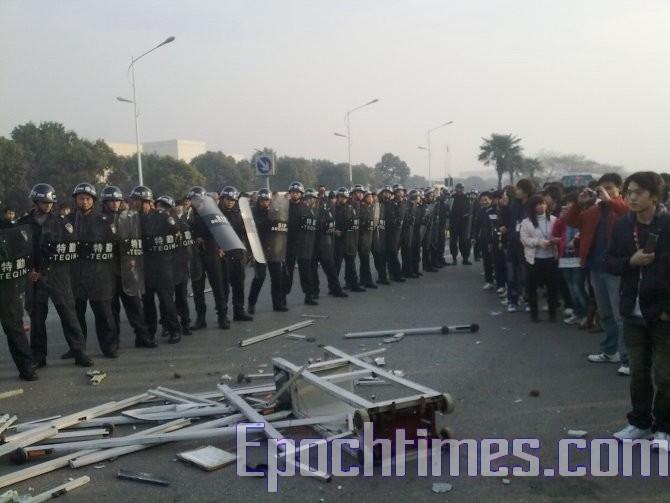 AppleInsider may earn an affiliate commission on purchases made through links on our site.
Issues with more than 2,000 workers at a Wintek Corp. factory in Suzhou, China, have reportedly been resolved, ending a strike that began last week, ceasing production of parts for Apple products.
Taiwanese trade publication DigiTimes reported Thursday that the strike was resolved by Wintek with production unaffected. The company offered bonuses to its employees, which was allegedly enough to get the employees to go back to work.
Wintek made a filing with the Taiwan Stock Exchange that said the plant's production and capacity were not harmed by the walkout. Workers of the plant destroyed and vandalized some of the equipment, resulting in 300 riot police being dispatched to the location. Demonstrators grabbed whatever they could nearby and hurled pieces of metal at police who stood in the distance.
Employees went on strike after they said four employees died after exposure to hexane, a toxic chemical used to clean touchscreen panels. Hexane can cause nervous system failure in humans.
Other reports alleged that employees were also upset because of a canceled 2009 bonus, though employees who spoke with the Chinese press said it wasn't just about money. The Wintek factory is a component supplier for Apple's iPhone, and this week was pegged as a potential supplier of touch panels for the company's forthcoming touchscreen tablet.
Like almost every electronics company, Apple works with overseas partners to create and assemble its devices. Last year, an audit of factories Apple contracts with in China showed that more than half were not paying valid overtime rates for those that qualified. In addition, 23 of the 83 surveyed factories weren't even paying their workers China's minimum wage.
Wintek, in particular, came under fire in 2009, as workers at the company took their case directly to Apple over what they saw as illegal and abusive working conditions. Members of the National Federation of Independent Trade Unions in Taiwan protested in front of Apple's Taipei offices last May, hoping the Mac maker would influence Wintek.