Pre-paid Chinese iPhone could see 10M sales a year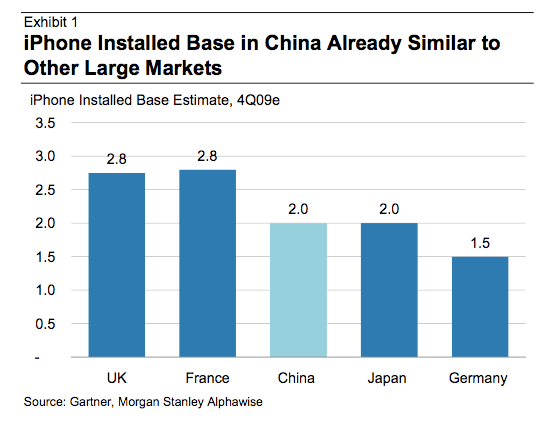 AppleInsider is supported by its audience and may earn commission as an Amazon Associate and affiliate partner on qualifying purchases. These affiliate partnerships do not influence our editorial content.
Despite a slow start, Apple's smartphone presence in China could grow to 5 million iPhone sales per year — and could even double that if the company were to offer a lower cost prepaid model.
Analyst Katy Huberty with Morgan Stanley issued a note to investors Friday stating that she is bullish on the prospect of improved future iPhone sales in China. This week, Apple executive revealed that more than 200,000 iPhones have been activated since the handset launched on carrier China Unicom last fall.
Huberty noted that the current install base of unlocked iPhones in China is about 2 million, according to a new study conducted by Morgan Stanley. That is already similar to the largest European and Asian countries.
Apple has a total addressable market of 50 million Chinese consumers, Huberty said, and the survey indicates Apple could, in time, sell between 4 and 5 million iPhones in China each year. Though 50 million consumers represents only about 4 percent of China's total population, it's comparable to major markets such as the U.K., which has 76 million subscribers, and Spain, with 53 million.
In addition, the study found that introducing a lower-cost, prepaid device could increase iPhone sales by 100 percent, to as much as 10 million per year.
"It's no surprise that pricing is the largest obstacle to greater iPhone adoption in China," the note reads. "Hardware pricing, service plan pricing and the large up-frot payment were cited by 85%, 66% and 56% of respondents respectively, as reasons they were not likely to purchase an iPhone."
Based on the 200,000 units already sold through China Mobile, Apple is expected to sell about 1.2 million units in the iPhone's first year. Huberty expects those sales to skew higher as the year progresses, though, thanks to a joint marketing campaign and a 46-city road show to demonstrate the iPhone that began in late 2009.
As for the 2 million iPhones already in the country, sales on the grey market are said to range in price from $550 to $820, mostly from Hong Kong. Most of the iPhones in China come from the grey market, thanks in part to the China Unicom model lacking Wi-Fi.
The Morgan Stanley survey queried 1,050 consumers in China to determine underlying iPhone demand. The study targeted people who lie in China's "core iPhone addressable market."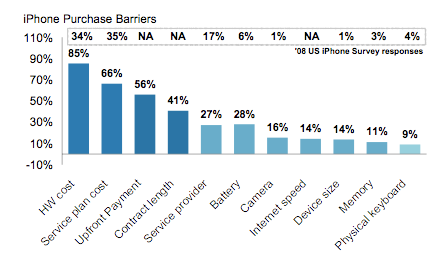 When it debuted last October, iPhone sales added just 5,000 subscribers to China Unicom. This week, Apple executives said they are, at the moment, more focused on building the Apple brand than they are unit sales in China.
"We are very, very focused on the quality of the point of sale and consumer experience," said Tim Cook, Apple's chief operating officer. "We would prefer to move slow because we are building the brand for the long-term and we are very much focused on the long-term in that market, because we think there is significant potential there."