AT&T, Sling Media partner to allow 3G access on iPhone SlingPlayer

AT&T announced Thursday that it would allow the SlingPlayer Mobile application for the iPhone to stream video over the wireless provider's nationwide 3G network.
Sling Media's SlingPlayer allows users to watch video recorded at home from anywhere on the go. Previously, the SlingPlayer Mobile application for the iPhone was limited to Wi-Fi-only access to streaming video, due to bandwidth concerns on the 3G network.
But AT&T revealed that it has worked with Sling Media to ensure the SlingPlayer Mobile application has been optimized to run on its high-speed 3G network. Sling Media created a new version of its application that conserves bandwidth for 3G data connections, and AT&T has been testing the new software since December. Thursday, AT&T revealed it has notified both Apple and Sling Media that the new, "optimized" application is acceptable for use on its 3G network.
"Just as we've worked with Sling Media in this instance, we look forward to collaborating with other developers so that mobile customers can access a wider, more bandwidth-sensitive, and powerful range of applications in the future," said Ralph de la Vega, president and CEO, AT&T Mobility and Consumer Markets.
"Collaboration with developers like Sling Media ensures that all apps are optimized for our 3G network to conserve wireless spectrum and reduce the risk that an app will cause such extreme levels of congestion that they disrupt the experience of other wireless customers. Our focus continues to be on delivering the nation's most advanced mobile broadband experience and giving our customers the widest possible array of mobile applications."
Streaming video recorded at home requires the purchase of a Slingbox, which can be purchased direct from Sling Media at $179.99 for the Slingbox Solo, or $299.99 for the Slingbox Pro-HD. Slightly lower prices are available from Amazon.
"We're delighted with AT&T's decision to approve the SlingPlayer Mobile app on their 3G network," said John Gilmore, senior vice president and general manager at Sling Media. "SlingPlayer Mobile on AT&T's 3G network gives customers the best experience possible for watching their home TV while on the go."
Last year, the $30 App Store application (iTunes Preview) was introduced with support for Wi-Fi only. As of Thursday morning, the new 3G-compatible version was not yet made available for download. When it debuted, AppleInsider gave a positive review of the SlingPlayer Mobile application.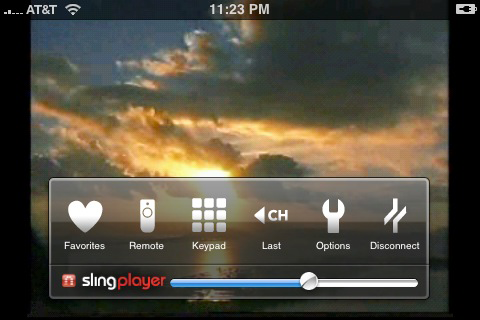 Last May, AT&T said it did not allow a 3G version of SlingPlayer on the iPhone because it would use too much bandwidth and could "prevent other customers from using the network. Now, AT&T has advertised it will provide developers with wireless network optimization requirements for video and other applications by the end of March at its developer-oriented Web site, developer.att.com.
In early January, AT&T announced its new "Virtual Innovation Lab" and two "Innovation Centers," which the company said