Sling Media says it didn't change iPhone SlingPlayer to appease AT&T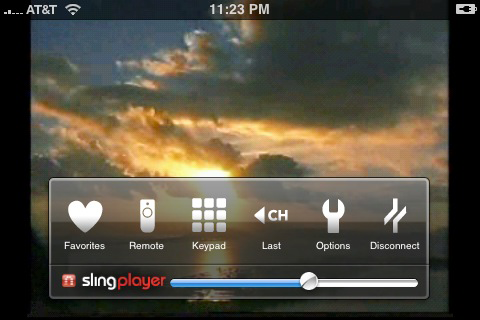 AppleInsider is supported by its audience and may earn commission as an Amazon Associate and affiliate partner on qualifying purchases. These affiliate partnerships do not influence our editorial content.
Sling Media clarified reports that its SlingPlayer iPhone application was modified in collaboration with AT&T to be "more bandwidth sensitive" and less taxing on the carrier's 3G network.
On Thursday, AT&T sent out a press release touting the forthcoming release of SlingPlayer Mobile on the iPhone, now with the ability to stream recorded video over the wireless provider's nationwide 3G network. The company's statement said Sling Media and AT&T worked collaborated ensure the "optimized app" could run on its 3G network.
The misunderstanding comes from statements attributed in the press release to Ralph de la Vega, president and CEO of AT&T Mobility and Consumer Markets. He said AT&T and Sling Media worked together to create a "more bandwidth sensitive," revised version of the software. The statement has since been corrected.
Sling Media's John Santoro told ArsTechnica that nothing was changed in the application, and AT&T did nothing in collaboration with Sling Media to modify or improve the software.
"We didn't change anything," Santoro reportedly said. "AT&T never discussed any specific requirements with us."
SlingPlayer Mobile has always contained code to adapt bandwidth use and quality of streaming video given the current network conditions. While AT&T and Sling Media talked when the application was released last year with support for Wi-Fi only, the wireless provider never asked them to make changes to the application. In addition, the newly approved 3G-capable version is allegedly no different from the software first rejected by AT&T.
Reached for comment Friday by AppleInsider, an AT&T spokesperson gave the following statement:
"There are technical things a developer can do to ensure an app uses 3G network bandwidth efficiently. Since December 2009, we've been testing the SlingPlayer Mobile app and have now notified Sling Media and Apple that the optimized app can run on our 3G mobile broadband network."
In addition, as of Friday, the official press release on AT&T's Web site does not include the initial quote ArsTechnica attributed to de la Vega. Instead, it correctly notes that Sling Media "originally developed its wireless app to make efficient use of 3G network bandwidth."
The $30 SlingPlayer Mobile application was initially not allowed 3G access because AT&T thought it would use too much bandwidth and could "prevent other customers from using the network." Now, AT&T has said it intends to work with other developers to ensure that their applications can be safely used on its network without any negative effects from heavy bandwidth usage.
To stream video recorded from home, users must own the Slingbox hardware, which can be purchased direct from Sling Media at $179.99 for the Slingbox Solo, or $299.99 for the Slingbox Pro-HD. Slightly lower prices are available from Amazon.