Apple's share of U.S. smartphone market grows to 25% - study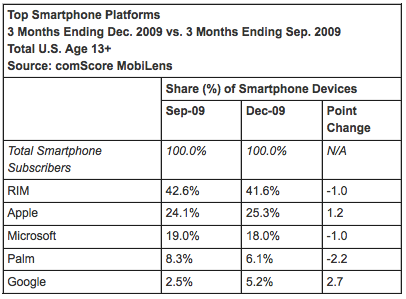 A strong holiday quarter helped to grow Apple's share of the U.S. smartphone market by 1.2 percent in the fourth quarter of 2009, giving the iPhone a 25.3 percent share of users, according to a new report.
ComScore this week released its Mobile Subscriber Market Share findings for the three-month frame ending in December 2009. While competitors Research in Motion, Microsoft and Palm all lost ground in the domestic market, Apple further solidified its place as the No. 2 smartphone maker in the U.S.
In first was RIM, which had 41.6 percent of the holiday share. That was down 1 percent from the September quarter. Microsoft took third, also losing 1 percent from September, to 18 percent.
In fourth was Palm, dropping 2.2 percent to 6.1 percent in the December quarter. Google surged into fifth with a 5.2 percent share, up 2.7 percentage points from September 2009.
In all, there were 234 million people aged 13 and older in the U.S. using mobile devices in December 2009. Motorola was the top overall cell phone maker, with 23.5 percent of all U.S. mobile devices. As the smartphone market is much smaller than the overall cell phone market, Apple did not rank among the top five.
The top smartphone maker RIM came in fifth place — behind LG, Samsung and Nokia — with a 7 percent market share. While the BlackBerry maker lost ground in the smartphone market, it gained in the overall cell phone market, boosting its presence by 0.6 percent and closing the gap with fourth-place Nokia, which dropped 0.4 percent to 9.2 percentage points.
The study also found that most mobile phone users — 63.1 percent — use their handset to send text messages. In addition, 27.5 percent use a Web browser, 21.6 percent play games, 17.8 percent download applications, and 12.1 percent listen to music.
With more than 140,000 applications available on its App Store, Apple has by far the largest central online marketplace for software in the smartphone space.
While comScore's data is in terms of actual owned units in the U.S., last week IDC released a study on global smartphone sales, which found that Apple represented 14.4 percent of worldwide shipments. Apple shipped an estimated 25.1 million iPhones in all of 2009, and a record 8.7 million in the fourth quarter alone.