iPod touch users spend more time using apps than those with iPhones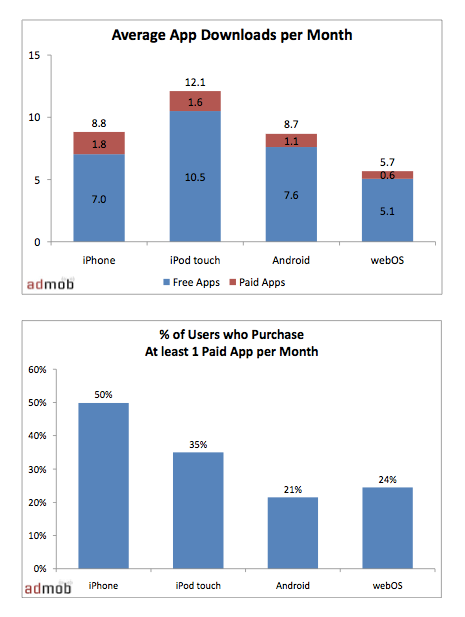 A new survey of mobile device consumers has discovered that iPhone and iPod touch owners are mostly male, though iPhone users are older and have less time to use downloaded applications than those who have an iPod touch.
AdMob's Mobile Metrics report for January 2010 found that iPod touch users download an average of 12 applications per month, which is 37 percent more than iPhone and Android users. Those with an iPod touch also spend 100 minutes per day using applications, which is 25 percent more than both Android and the iPhone.
iPod touch users are also considerably younger, with 78 percent of them below the age of 25. Compare that with the iPhone, where 25 percent of users are under 25, and 24 percent for those on Android and WebOS.
But iPhone users are by far the most likely to purchase software for their handset, with half of them spending money on at least one application every month. Of those with an iPod touch, 35 percent bought at least one application each month, followed by 24 percent of WebOS users and 21 percent of Android users.
And satisfaction among iPhone users ranked highest, with 91 percent saying they would recommend their device. That was followed closely by the iPod touch, which had an 88 percent recommendation rate. Android users are relatively happy too, with 84 percent saying they would recommend their handset. Palm's WebOS came in last with 69 percent.
Customer satisfaction with the iPhone OS carries over to anticipation for the forthcoming iPad. Among iPhone owners surveyed, 16 percent said they intend to purchase an iPad. Comparatively, 11 percent of WebOS users and 6 percent of Android customers said they would purchase the first-generation Apple device.

Those numbers generally correspond with a separate survey released earlier this week, which found that 13 percent of respondents are likely to buy an iPad. That number was larger than the 9 percent who said they intended to purchase an iPhone before its debut in 2007.
In the battle of the sexes, AdMob's survey found Android users are overwhelmingly male, at 73 percent of the user base. Comparatively, 58 percent of WebOS users, 57 percent of iPhone users and 54 percent of iPod touch users are male.

The opt-in survey was taken by users on their respective mobile devices by responding to mobile advertisements. The findings were based on 963 total respondents, with 318 Android users, 244 iPhone, 356 iPod touch and 45 WebOS responding between Feb. 5 and Feb. 16.