Mac OS X market share up 29%, Leopard still most common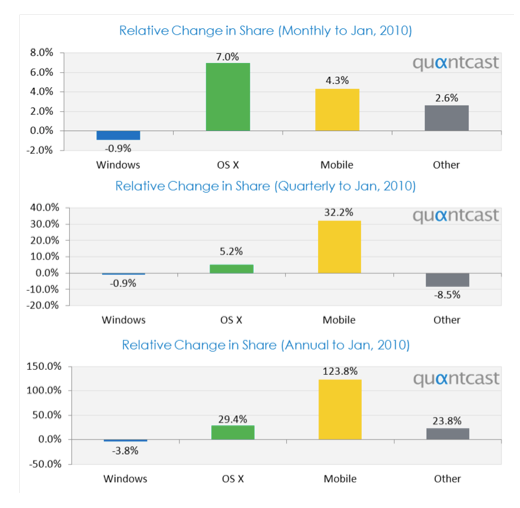 New statistics released this week show that the market share of Mac OS X in Web use has grown by 29.4 percent in the last year, while Windows has decreased 3.8 percent.
Web statistics company Quantcast found that Mac OS X represented 10.9 percent of total Web consumption in North America in January. Despite its losses over a year prior, Windows remains the dominant format with 86.8 percent of all Web use.
The analytics company noted that Windows share held steady for the last three months, following the introduction of Windows 7. But January repented a decline once again following a strong holiday season during which Apple sold 3.36 million Macs.
Mac OS X share also grew 7 percent between December and January, and also saw 5.2 percent quarterly growth. Windows saw a 0.9 percent increase in both monthly and quarterly share.
The greatest growth in Web use has been on mobile devices. Quantcast found that mobile operating systems increased their presence by 123.8 percent year-over-year in January. But even with that tremendous growth, mobile devices still represent just 1.3 percent of total Web use.
Quantcast also revealed that Mac OS X 10.5 remains the dominant version of Apple's operating system. In January, Leopard represented 52.1 percent of all Mac users.
However, adoption of Mac OS X 10.6 Snow Leopard is rapid, with 27.3 percent of Mac users running Apple's latest operating system. Snow Leopard was released in August and got off to a strong sales start twice as high as the debut of Leopard and four times better than Tiger.
In January, 17.2 percent of Mac users were running Mac OS X 10.4 Tiger, while 3.4 percent were on an earlier version.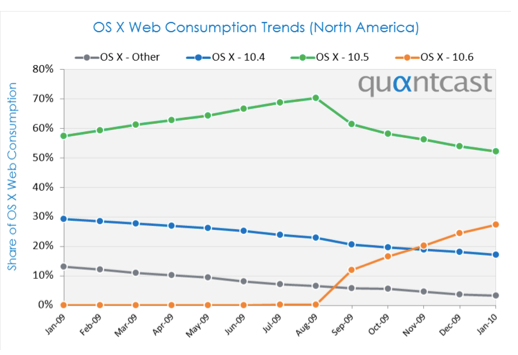 For Microsoft, Windows XP remains the dominant platform, with 51.8 percent of users running the operating system. In fact, Quantast found that Windows XP actually gained share in January, due to strong sales of netbooks.
Windows Vista commands 37.4 percent of PC users, while Windows 7 has been adopted by 10.2 percent.