Apple adds sharing features, iPad interface tweaks to iWork.com beta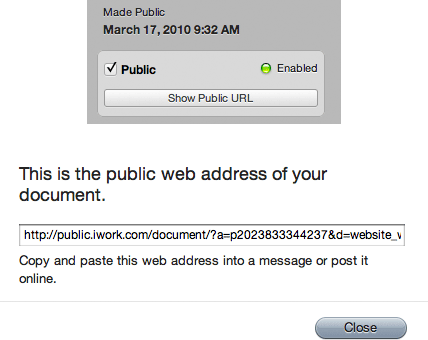 Apple this week quietly announced a handful of enhancements to its fledgeling iWork.com beta service, including the availability of new sharing features and improvements to the online service's user interface tailored for the iPad, iPhone and iPod touch.
Share documents on websites and social networks
More specifically, Apple said users can now create a public link that will allow them to shares documents with large groups or on websites and social networks. As such, there's no longer a need to set a password or send an invitation. Anyone with the public link can view documents shared in this manner, but cannot add comments or notes.
Improved Shared Documents page
Meanwhile, Apple also said that user can now download documents shared on iWork.com without leaving the Shared Documents page. This same page also lets users track the number of views their publicly shared documents receive.

Finally, Apple said it has redesigned iWork.com's Sign In and Shared Documents page for iPad, iPhone, and iPod touch, to make it easier for users to access their documents while on the go.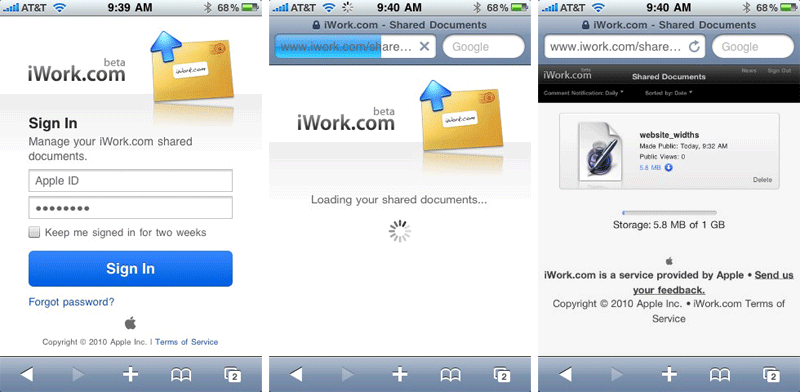 "The new interface and improved scrolling help you find your shared documents faster," the company said. "Visit www.iwork.com from your iPad, iPhone, or iPod touch to view your shared documents."
To take advantage of iWork.com and these new features, Apple noted that users should be using the latest version of iWork on their Mac. It's also requesting that users provide it with feedback on the latest round of changes.
Released as a public beta on January 6, 2009 at the Macworld Conference & Expo, iWork.com provides a web interface for viewing, downloading, and commenting on uploaded documents from Apple's Mac-based iWork productivity suite.
The service supports uploading of Pages '09 documents, Keynote '09 presentations, and Numbers '09 spreadsheets. Users can download documents in both Microsoft Office and PDF formats, in addition to their native iWork formats.
The user who uploads the document determines which of the aforementioned formats are available as download options. However, in contrast to cloud-based office applications such as Google Docs, iWork.com does not offer editing. The service is currently free as a beta but will morph into a subscription-based offering once it's finalized.