Apple's iMac to account for 25% of global desktop growth in 2010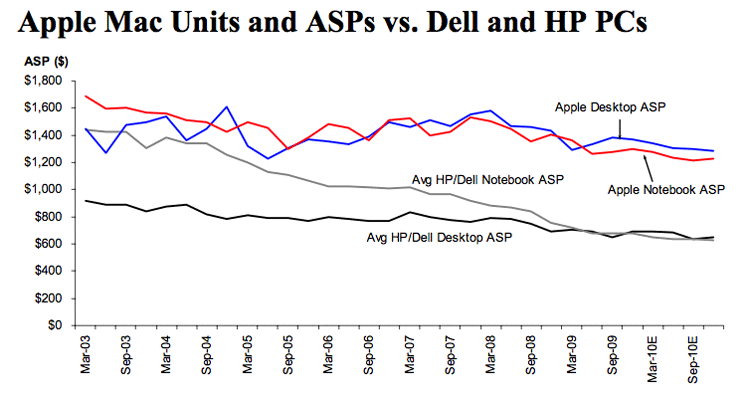 AppleInsider may earn an affiliate commission on purchases made through links on our site.
After roughly two years of declines, growth in worldwide market for desktop PC sales is poised to rebound into the black during the 2010 calendar year, thanks largely to Apple's latest iMac offerings, according to a published report.
In a research note issued Wednesday by Caris & Company, analyst Robert Cihra said growth in the overall PC market for 2010 is trending upwards of 15 to 20%, fueled by greater than 90% growth in combined sales of netbooks and notebooks.
At the same time, however, he said desktop sales are showing signs of life for the first time in 24 months, given strong performance of Apple's iMac line that could boost year-over-year shipments by approximately 3%, compared to last year's 12% slippage.
"We continue to model note/netbook accounting for greater than 90% of PC unit growth in 2010, but with desktops at least now looking like they've stopped eroding and can resume at least some low single-digit recovery after 2 years of decline, driven by emerging markets, corporate workhorse use and power gamers," Cihra wrote. "But believe it or not, we estimate Apple's iMac accounting for a full 1/4 of ALL desktop market growth in calendar year 2010."
Regionally, the analyst estimates that while US corporate demand for PCs is finally gaining some steam, the majority of overall growth in the sector is likely to come from emerging markets like Western Europe and Japan, which he sees accounting for some 70% of the market's growth. This would represent the first time international sales contributed to more than 50% of the market, he added.
The iMac's contributions to global desktop growth shouldn't necessarily come as a surprise. Following the October introduction of new 21- and 27-inch models, Apple in November saw its combined Mac sales rise by 21%, driven by a staggering 74% growth rate in sales of desktop Macs.
During its most recent quarter ended December, the Cupertino-based company continued to ride on the new iMacs' momentum, reporting a 57% rise in desktop sales sequentially, which translated into a 70% jump year-over-year. Revenues for the segment were also up 55% and 62%, respectively.
In his report Wednesday, Cihra offered comments of praise to this end, backslapping the Mac maker for remaining in control of its own product and pricing schedules. This has allowed the company to maintain much higher overall ASPs (average selling prices) than its peers while still delivering more affordable prices to its customers.
Caris & Company, which reiterated its Buy rating on shares of Apple, expects the Mac to grow at 1.6 times the industry average during the 2010 calendar year.