'Material' market gains expected from Apple's 25 new China stores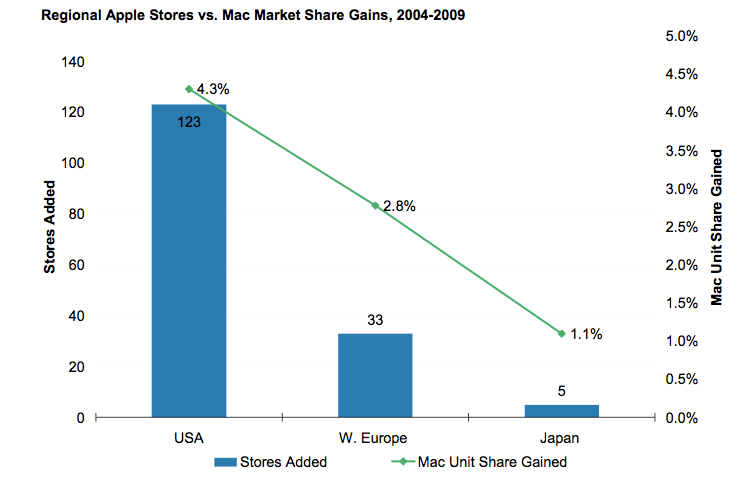 With Apple's retail presence delivering growth in Mac and iPhone marketshare elsewhere in the world, the company's plans to build 25 new stores in China is expected to have a significant impact on sales.
Morgan Stanley analyst Katy Huberty released a new note to investors Monday in which she said Apple's plans to build 25 new retail stores in the world's most populous country will be a great benefit for the sale of products in China. Currently, Apple has less than a 1 percent marketshare in Mac sales, but in the last quarter of calendar 2009, unit sales were up 100 percent year-over-year.
The addition of 123 Apple stores in the U.S. between 2004 and 2009 led to a 4.3 percent mac unit share increase over the same span. Another 33 new stores in Western Europe led to a 2.8 percent increase in total Mac market. If those trends play out in China, Apple could be poised for "material" gains in the nation of over 1 billion.
"While a specific timeline wasn't provided, we expect Apple to execute on this strategy over a multi-year period, carefully establishing a presence and building the brand," Huberty wrote.
Morgan Stanley's research has found that Chinese Apple product owners are twice as likely to purchase future Apple products. Apple has an estimated 2 million iPhones already in China, though most are from the grey market, thanks in part to the official China Unicom model lacking Wi-Fi.
Morgan Stanley has closely tracked Apple's progress in China, with a December 2009 survey of 1,050 high-end Chinese consumers showing a "strong underlying demand within the addressable market" for Apple products.
Huberty has previously predicted that Apple will introduce an iPhone with a lower total cost of ownership in June. A new model could be economically friendly to even more consumers, and would help the iPhone platform expand in emerging markets such as China.
In particular, Huberty believes that a pre-paid iPhone in China could sell 10 million units per year. Even without a pre-paid model, Huberty expects Apple's smartphone presence in China to grow to 5 million iPhone sales per year. Morgan Stanley believes Apple has a total addressable market of 50 million Chinese consumers.