Steve Jobs e-mail suggests AT&T will not sell Apple iPad initially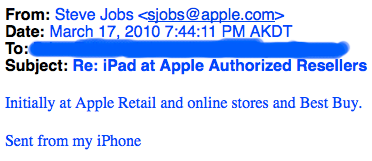 A recent e-mail from Apple co-founder Steve Jobs stated the forthcoming iPad will initially be sold only in Apple retail and online stores, as well as Best Buy. In addition, other e-mails regarding Mac refreshes, the iPhone OS e-mail client and iWork.com storage were reportedly sent by the billionaire.
The response from Jobs regarding iPad sales was brief, as usual, and was sent from the chief executive's iPhone. It was in response to an inquiry as to whether the iPad would be available for purchase with Apple's authorized resellers.
"Initially at Apple Retail and online stores and Best Buy," Jobs replied via e-mail. A copy was provided to AppleInsider.
The statement would mean that AT&T, despite being the exclusive wireless provider for the iPad in the U.S., will not sell the iPad in its own retail stores, at least at first. The iPad will be released on April 3.
In February, Apple Chief Operating Officer Tim Cook revealed that the iPad would be available at Best Buy and other assisted locations. He said that other retail outlets will be added in time.
iPad users who opt for the 3G-capable hardware, which carries a $130 premium, can add AT&T service to their device at any time without signing a contract. The carrier will offer data for $15 per month for 250MB, or $30 per month for unlimited access.
In addition to the comment on retail stores, Jobs has allegedly sent a number of other e-mails in recent days that have generated publicity.
In one note, Jobs was asked if there was a way to get documents onto the iPad through iWork.com or the iDisk. Jobs responded: "Yes."

As previously noted by AppleInsider, Apple has targeted business users as potential iPad customers, adding features designed to make the device attractive to the enterprise market. The iPad will sync documents with iTunes, just like the iPhone currently does, and will also access cloud, Web, and local file shares.
Also this week, MacRumors was provided a copy of one note in which Jobs told a consumer "not to worry" about a forthcoming MacBook Pro refresh. The person wrote Jobs after they said they were "losing heart in the lack of vision" for the MacBook Pro and Mac Pro hardware.
Finally, TUAW received word from a reader who asked Jobs if the iPhone would ever receive a universal inbox in its mail client. Jobs simply replied: "Yep." Currently the iPhone OS only allows for multiple e-mail accounts to have separately accessible inboxes.