Apple pre-loading iBook Store with 30,000 free eBooks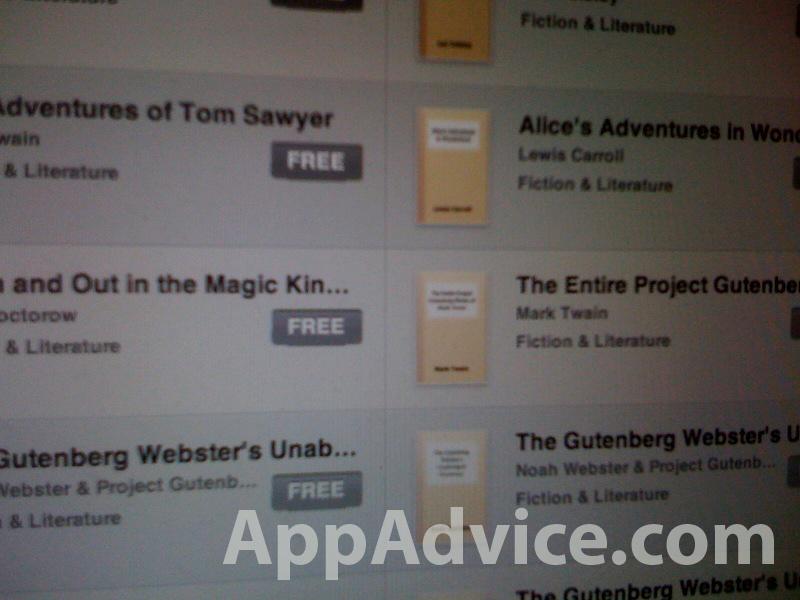 Apple has reportedly filled up its upcoming iBook Store for iPad with a wide variety of free ebook titles curated by Project Gutenberg, heading off any attempts by third parties to profiteer on literature in the public domain.
AppAdvice.com says Apple has already listed more than 30,000 free books from Project Gutenberg into its new ebook store for the upcoming iPad (as pictured below). The Gutenberg library of free digital books is supported by volunteer efforts, which maintains a huge collection of literature in the public domain.
While Apple has already announced that the iPad's iBooks application would be compatible with the ePub format, this latest news shows that it will be even easier for users to access public domain books directly through the iBook Store. Apple is not preinstalling the iBooks app on the iPad, but it will be available for free from the App Store, allowing competing ereader apps such as Amazon's Kindle App for iPhone an equal footing.
The move to include Gutenberg's large library of public domain titles will not only help fill out Apple's new marketplace for books, but will also prevent the iPad's ebook library from being overrun with multiple versions of public domain books wrapped up in a trivial app package by third party developers hoping to take advantage of public domain content.
When the company initially launched the App Store for iPhone, the new market was deluged with book "apps," which contributed little real value and distracted attention away from more significant iPhone software titles. The iBook app for iPad is expected to eventually become available for the iPhone and iPod touch as well, although Apple has not yet announced any plans for a smaller version of the app.
In pushing ebook titles out of the general App Store and into its own iBooks or other third party apps, Apple seems to be attempting to contain problems related to monitoring and managing adult content. Last year, the company temporarily rejected at least two content reader apps for iPhone that included "obscene" content, including a Newspapers app that included topless pictures of women from the UK tabloid The Sun, as well as a conventional ebook reader app that included the title "Kama Sutra," an ancient text that includes graphic sexuality.