Apple's iPad iBookstore offers low-cost e-book self publishing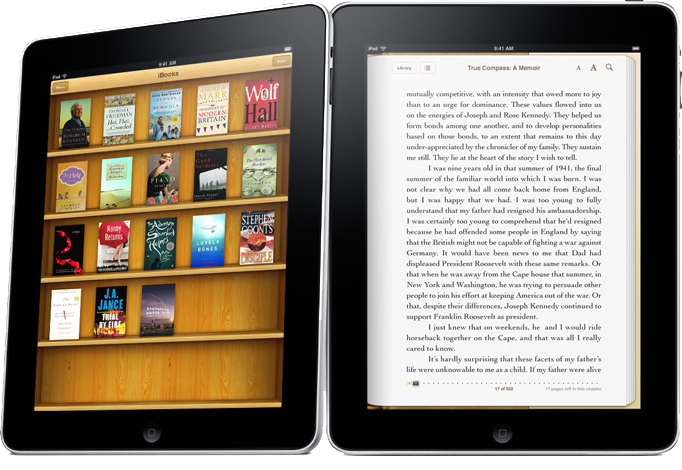 Self-publishing authors will be able to offer their titles on Apple's iBookstore for the iPad at almost no cost, potentially breaking down the barriers for independent writers who want to sell their work across the globe.
According to DigitalBeat, the self-publishing service Smashwords has signed a distribution deal with Apple to put books on the iBookstore, which will be a part of the iBooks application, available as a free download on the iPad through the App Store. Mark Coker, chief executive of Smashwords, announced the agreement in an e-mail to authors who use the service.
The e-mail from Coker also revealed Apple's pricing rules for the iBookstore. Each title's price must end in 99 cents (i.e. $12.99), and books can be priced as low as 99 cents. The price of the book must also be less than its print counterpart.
Author Dean Takahashi said users can submit their work to Smashwords through a simple process that involves uploading a Microsoft Word file, setting the price and deciding where the book is to be published.
The company is also reportedly adding support for International Standard Book Numbers, something that is required by Apple for all titles on the iBookstore. In order to see inclusion on the iBookstore at launch, Smashwords authors must submit by March 31 their work to the company's "Premium Feed," which distributes to other major online retailers like Amazon, Barnes & Noble, Sony and Kobo.
Through the service, authors receive 85 percent of net sale proceeds from titles, or 70.5 percent of affiliate sales. The report said the cost to distribute a book on the iPad is free.
Last week, it was revealed that Apple has preloaded the iBookstore with 30,000 free public domain books from Project Gutenberg. The Gutenberg library of free digital books is supported by volunteer efforts, and maintains a huge collection of literature in the public domain.
Apple's iBooks application is compatible with the ePub format. Apple will also sell content from some of the largest publishers in the world, including HarperCollins, Hachette, Penguin, Macmillan, and Simon & Shuster.
The iBookstore represents Apple's entrance into the e-book market. Since the iPad was announced, publishers have used their price negotiations with Apple to leverage Amazon into accepting higher prices for hardcover bestsellers on the Kindle e-reader. While Kindle bestsellers previously have sold for $9.99, Apple's deal reportedly sets them slightly higher, between $12.99 and $14.99.
Though Amazon initially resisted, the book seller was forced to reluctantly agree to the higher prices, which are expected to debut when the iPad launches this Saturday.