Apps for Apple iPad command 22% of new mobile projects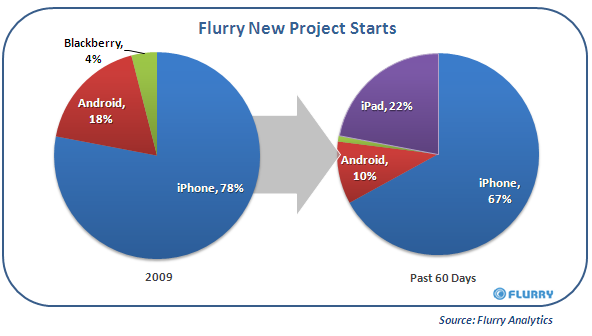 AppleInsider may earn an affiliate commission on purchases made through links on our site.
In the two months since the iPad was announced, the still-unreleased platform has generated more interest from developers than the Android and BlackBerry platforms combined, according to a new study.
Over the last 60 days, new project starts tracked by mobile analytics firm Flurry show that the iPad has carved out a 22 percent share, well ahead of Android, which has 10 percent, and behind only the iPhone at 67 percent.
"As April 3 draws near, developers continue to develop for the iPad at a fever pitch," the company said.
Flurry has counted about 2,000 iPad applications already listed in the App Store, before the device has even been released. Consumers will get their hands on Apple's latest hardware this Saturday.
On average in 2009, Android accounted for 18 percent of software development, while the iPhone commanded 78 percent. Similarly, though BlackBerry took 4 percent of application development in 2009, it has represented just 1 percent in the last 60 days.
In March alone, of over 3,000 unique applications created within the Flurry network, Android's share of new project starts decreased to just 8 percent.
"However, it should not be concluded that Android developer support is on the decline," the analytics firm said. "In fact, the opposite is true, as we count approximately 300 new Android projects in March, which represents a 50% increase over February.
"Android's percent has declined because iPhone and iPad growth is increasing at a rate faster than that of Android. In short, more developers are building more apps. The total pie is growing significantly, month over month."
Last month, Flurry revealed that startup developers represent one in five on their network. With more than 150,000 applications available on the App Store, and most of them compatible with the forthcoming iPad, the firm found that the digital download destination is a place where independent software creators have a fair shot at success.
In February, Flurry reported that App Store developer interest had nearly tripled following the unveiling of the iPad. The trend has continued in the latest report, with a "significant increase" in new application starts maintained through the month of February.
Apple has pitched the launch of the iPad as a "whole new gold rush" for developers, as the device and its 9.7-inch screen will run existing App Store software as well as new applications designed specifically for the hardware and its larger touchscreen. First released in January, the iPhone 3.2 beta software development kit allows developers to create iPad-specific software.