Apple stock projected to hit $300 on strength of iPhone, Mac sales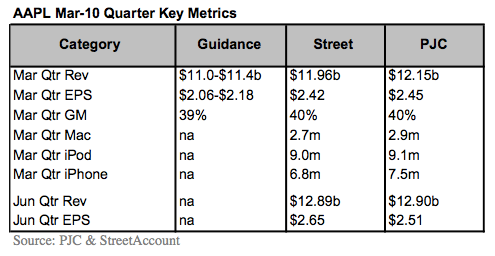 AppleInsider is supported by its audience and may earn commission as an Amazon Associate and affiliate partner on qualifying purchases. These affiliate partnerships do not influence our editorial content.
Less than a week ahead of Apple's quarterly earnings report, two analysts increased their price target for the company's stock — one to $299 and the other to $300.
Though Apple's earnings won't be reported until April 20, the company tipped its hand last week when it revealed that it has shipped more than 50 million iPhones. That means that Apple sold at least 6.9 million iPhones in the March quarter, and likely many more.
Analyst Gene Munster with Piper Jaffray said Wednesday that he remains confident in his estimate of 7.5 million iPhones for the first quarter of calendar 2010. If Apple's "more than 50 million" total actually means 51 million, that would imply sales of 7.8 million iPhones in the March quarter.
Munster's estimate of 7.5 million would represent 93 percent year-over-year growth in iPhone sales. That's consistent with the 90 percent increase Apple saw last quarter.
Munster has also raised his estimate for Mac sales in the quarter to 2.9 million, up from 2.6 million. The analyst cited NPD data, which shows that retail sales of Macs are tracking up 39 percent year over year.
Munster expects Apple's stock to hit $299 in the next year — up from his previous forecast of $287. Piper Jaffray has also maintained its overweight rating for AAPL stock.
Analyst Robert Cihra expects Apple's stock to go a dollar higher than Munster, with a formal prediction of $300 issued to investors Wednesday. That's up from Cihra's previous price target of $260.
Cihra expects to see revenue of $12.5 billion and earnings per share of $2.70 when Apple reports its second financial quarter earnings next week. Those numbers are driven by an estimated 7.5 million iPhone sales, 3.1 million Mac sales and 41 percent gross margin.
Cihra has also increased his iPad sales estimates to 5.5 million in the 2010 calendar year, up from his prior prediction of 4.5 million. Cihra also expects the iPad to cannibalize iPod touch units, but at two to three times the average selling price, the iPad will produce three to four times more gross profit per unit.