Apple exploring enhanced online store with social networking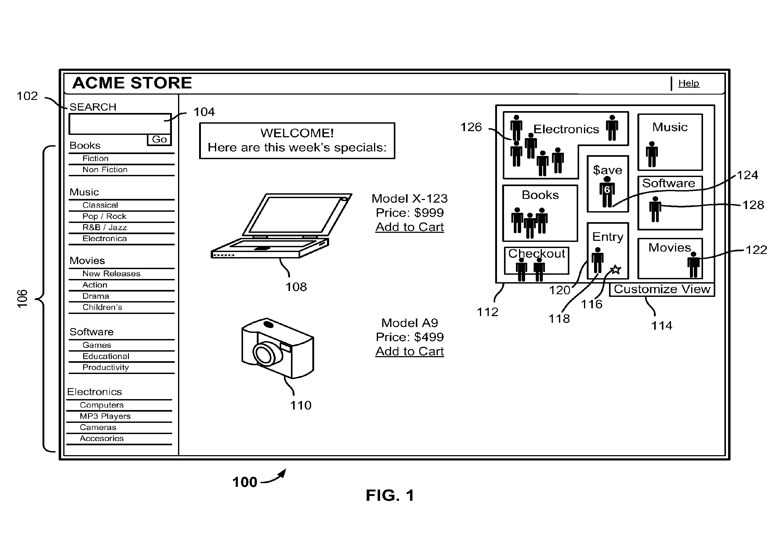 AppleInsider is supported by its audience and may earn commission as an Amazon Associate and affiliate partner on qualifying purchases. These affiliate partnerships do not influence our editorial content.
Because online stores are less likely to encourage users to "window shop" for new products, Apple seeks to make the Web shopping experience less "sterile and isolating," and encourage consumers to spend more money.
The new patent application from Apple revealed this week, entitled "Enhancing Online Shopping Atmosphere," notes that while online stores do have some advantages over physical stores, such as search functionality and being available 24/7, they also have a series of drawbacks. In addition to being a less friendly environment than a brick-and-mortar location, customers are less likely to "linger" while looking at a product, and therefore might spend less money than someone who shops in a physical store.
Apple seeks to improve the experience by adding a social element to an online marketplace. This could be accomplished by tracking what section of the store and what specific products other customers are currently in. The information could be conveyed to a shopper by displaying a human-shaped icon, representing what is popular on the Web site at that specific moment in time.
The system could offer up real-time statistics, giving shoppers information such as how many people viewed an item that particular day, or how many nearby shoppers are currently looking at that product. Users could also track nationwide and global statistics, seeing what customers in specific states or countries have purchased.
The application describes a shopper, "Alice," who is viewing productivity software in an online store. By hovering her mouse over the product, Alice is presented with the number of people currently looking at the software and the percentage of people site-wide with that product in their shopping cart.
Alice's personal history could also be tracked, showing products that consumers with similar interests viewed, or recommending search keywords based on her viewing and purchasing habits, as compared with other shoppers.
The social aspects could also be used for promotions. The application describes a feature that could ask Alice to "follow the footsteps" of other visitors, by visiting sections of the site they did, in order to receive a discount or participate in a contest.
Users on the site could also connect and speak with one another, to discuss products or share their personal experiences. Customers would also be able to opt out of these features if they were not interested in them, or decline just specific aspects. For example, Alice's profile might state that she is willing to be contacted by other visitors to answer questions about printers, but she does not want to talk about her personal taste in music.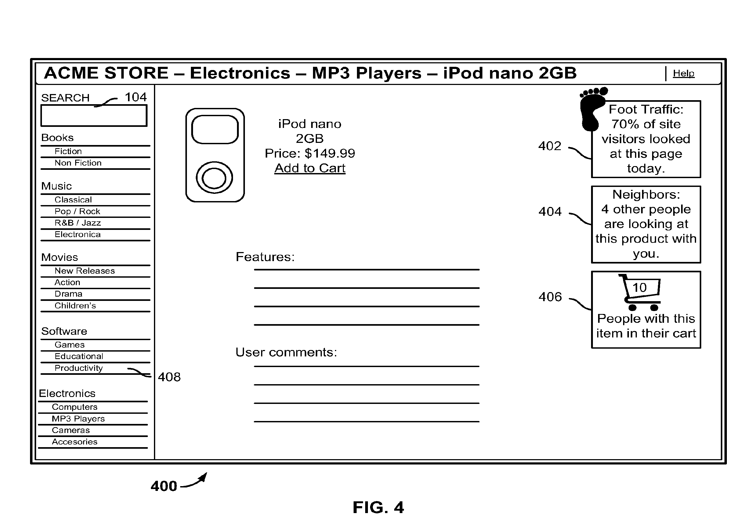 Much like in a physical store, sections of the online location will also have salesmen available to answer questions. By clicking on an icon representing the salesman, the shopper could instantly chat with a representative. Those employees could have varying skill levels, with general help labeled with an "H," while a software training specialist would be marked with an "S."
The application with the U.S. Patent and Trademark Office is credited to David A. Koski. It was filed for on Dec. 14, 2009.