Expectations for Apple hit new heights after record iPhone sales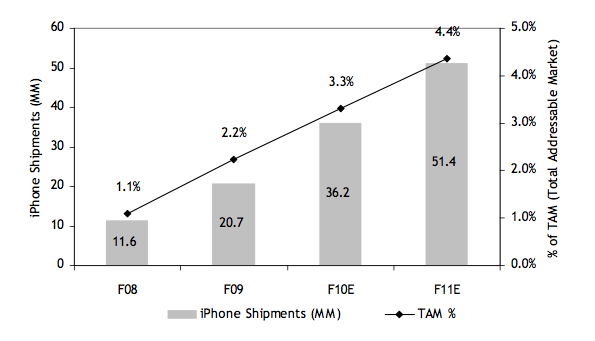 AppleInsider is supported by its audience and may earn commission as an Amazon Associate and affiliate partner on qualifying purchases. These affiliate partnerships do not influence our editorial content.
Apple's 8.75 million iPhones sold in the March quarter combined with a better-than-expected launch of the iPad has led analysts to increase their already bullish views on the company's stock.
On Tuesday, Apple revealed that its profits increased nearly 90 percent in the second financial quarter of 2010, bringing in $3.07 billion, or $3.33 per diluted share. In addition to strong iPhone sales, Apple also shipped 2.94 million Macs and 10.89 million iPods. It was Apple's best non-holiday quarter ever.
Though iPad sales did not begin last quarter, Apple executives also revealed that the product's launch exceeded their expectations. The company has revealed that more than 500,000 devices were sold in the U.S. first week.
Wall Street's most prominent analysts now expect Apple stock to go well beyond $300, with the highest estimate coming from Mike Abramsky of RBC Capital Markets, who increased his 12-month price target for AAPL to $350.
"After the big run, what's next?" Abramsky asked in his note to investors. "The big run."
The analyst said Wednesday that Apple's iPhone sales were "stunning," based on surprising international momentum. Total iPhone revenue was $5.4 billion, up 127 percent year-over-year, based on a $600 average selling price for the handset.
Abramsky has forecast gross margins of between 18 percent and 26 percent for the iPad in the third quarter. With sales of between 1.5 million and 2.5 million, that would equate to another $1 billion to $1.6 billion in revenue for Apple.
"Apple sees a significant iPad opportunity ahead; On Apple's market share growth strategies, our (fiscal year 2011) iPad unit forecast rises to 9.2M from 8M," he wrote. "Should Apple be correct, Apple's first mover advantage means it may be able to extract superior profitability via a strong market position, as it has in other markets — and iPad becomes Apple's next cash machine."
Analyst Gene Munster sees Apple's stock hitting $323 in the next 12 months, led by a new version of the iPhone likely to arrive in June. Munster noted that his estimate of 7.5 million iPhones for the quarter was more aggressive than most on Wall Street, and Apple even managed to blow that out with 8.75 million sold during the quarter.
With the recent leak of Apple's next-generation iPhone prototype in the wild, Munster said "meaningful features" of the forthcoming handset will further drive iPhone sales.
Munster said he sees the recently launched iPad as the "Mac for the masses." The lower average selling price gets users a device that accomplishes many of the computing tasks they need to complete on a daily basis. Because of that, the analyst said he believes the addressable market for the iPad is larger than many analysts believe.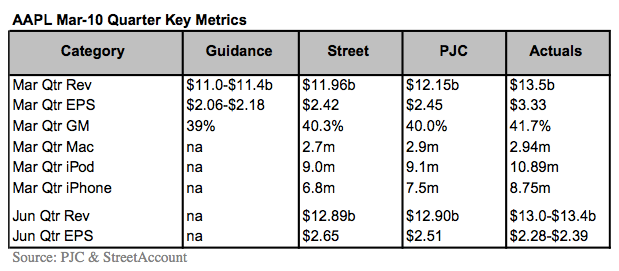 Analyst Brian Marshall said the most interesting part of Apple's story is the international growth of the iPhone. He believes that Apple has only acquired about 1.5 percent of its international carrier partners' total postpaid subscription base of 525 million. For comparison, its penetration in the U.S. peaked in Sept. 2009 on AT&T with 5 percent.
Since it took the iPhone about 10 quarters to reach that postpaid subscriber penetration with AT&T, he believes the international sales opportunity could double 8 quarters from now, to 16 million units per quarter.
Marshall said the iPhone will generate 60 percent of Apple's gross profits in 2010, and the company will ship 40 million total units during the calendar year.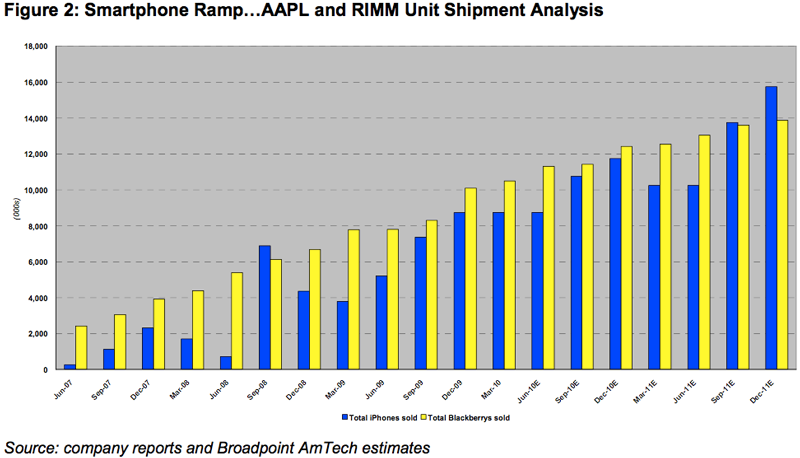 "Someone needs to explain handset seasonality to Apple," analyst Yair Reiner said. "March units should be weaker than the seasonably strong December quarter — preferably by a good 20-25%. March units should never be flat and never ever grow. Break this rule and you'll leave analysts wondering whether a secular shift is afoot to a radically redefined notion of mobile connectivity."
He also said the demise of the iPod has been "greatly exaggerated," as Apple's media player was down just 1 percent in sales year over year. The 10.9 million units sold was much better than Oppenheimer's prediction of 10.1 million units, as well as Wall Street's 9.9 million average.
With the Mac meeting the market's bullish expectations and a forthcoming iPhone 4G launch, Reiner has raised estimates for Apple. He now has a 12-18 month price target of $320.
Analyst Robert Cihra sees a "powerful succession of positive catalysts" for Apple over the next 3 to 4 quarters. Namely, he sees iPad demand exceeding supply, Macs gaining market share on PCs, an iPhone refresh in June, and a CDMA iPhone debuting in early 2011.
Cihra said expects iPad constraints to continue for the next three quarters, which will keep investors extrapolating the numbers that "could have been." He has increased his price target for Apple to $310, up from $300.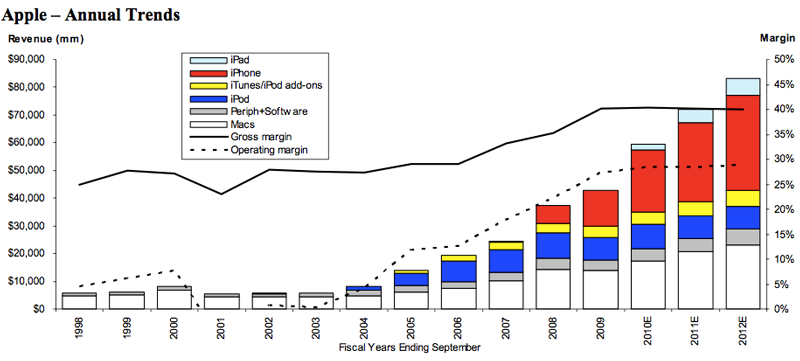 Analyst Mark Moskowitz said Apple's revenue and earnings growth is expected to stay well above 20 percent over the next few years. Apple's overall revenue and earnings growth show that the company has no rivals in large cap technology.
Moskowiz has increased his price target to $316, up from $305. He said Apple remains J.P Morgan's top pick in IT hardware, and the company's growth story has staying power, based on expected iPad adoption, Mac growth, iPhone penetration in China and additional carriers in the U.S., improved margins, and entrance into new categories like mobile advertising.
Analyst Katy Huberty has increased her price target for Apple to $275, up from $250. She noted that Apple's gross margin guidance for the coming quarter appears too conservative, which is a typical projection tactic for Apple.
Huberty sees potential upsides in Apple's margins from the forthcoming iPad 3G launch, strong sales of high-margin accessories, increased volume over the next few months, and a "benign" environment for component costs, such as DRAM.
Shaw Wu said he believes Apple's guidance for the coming quarter was less conservative than usual. Apple has projected $13 billion to $13.4 billion in revenue for the June quarter and $2.28 to $2.39 in earnings per share, versus Wall Street consensus at $13 billion and $2.70.
Wu raised his price target for Apple stock for the second time in a week, up to 315 on a 12-month outlook. He said he believes Apple will continue to outperform the market.