Apple's iTunes lead increasing, now selling 26.7% of US music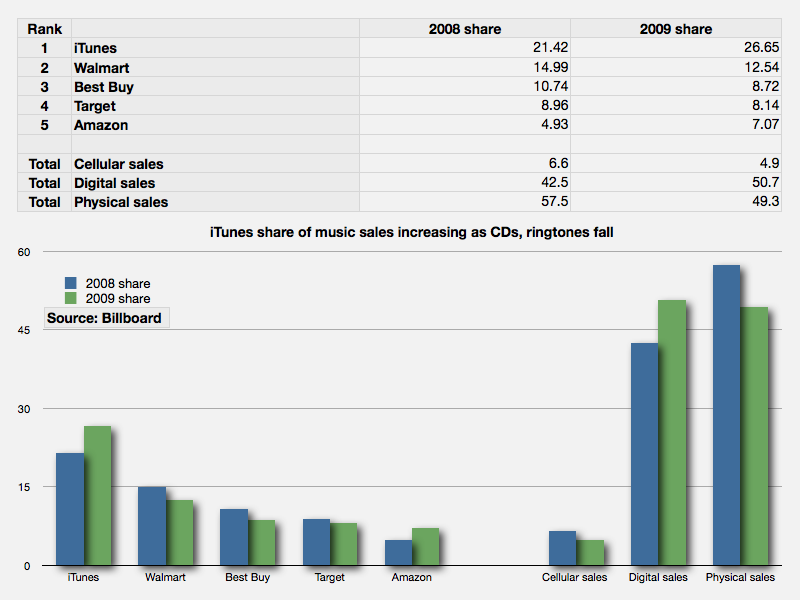 Since edging out WalMart in 2008 to become the top music retailer, Apple has increased its lead with iTunes and is now outselling both Walmart and second place BestBuy combined, while handling more than half of all digital music sales in the US.
According to a report published by Billboard, Apple's share of music sales increased by more than five percentage points, from 21.4% in 2008 to 26.7% last year. That's more than double the 12.7% share of the US music market iTunes took in 2007, when the iPhone was first announced.
iTunes vs Mobile Ringtones
Apple's expansion in digital sales was observed despite a collective decline in sales among mobile providers. Music sales by Verizon Wireless, Sprint Nextel, T-Mobile, and AT&T fell from 6.6% in 2008 to 4.9% last year, deflating the optimism that cellular providers would deliver the next big market for music, primarily thorough sales of ringtones.
Apple's introduction of lower priced ringtones and free tools within iTunes that enable users to create their own ringtones may likely have played a part in stalling the growth of the $2-3 per ringtone business being pushed by mobile providers.
Continued decline of physical media music
Outside of digital sales, the market for music sold on physical media is in even worse shape, with CDs and other music formats sold through brick and mortal retail stores plunging from a 57.5% share of the music market in 2008 to a 49.3% share last year.
That allowed digital downloads to eclipse the market share of physical media in the US. Half of all digital media sales occurred through Apple's iTunes Store.
Walmart, the CD sales leader, saw its share fall from 15% to 12.5% over the same year period, while second place BestBuy fell from 10.7% to 8.7% share, despite acquiring the digital media Napster business.
Amazon, which sells both CDs and digital downloads, increased its share of both markets, with its physical media sales jumping from 4.2% to 5.8% (at the expense of record stores) and its overall combined share of music sales increasing from 4.9% to 7.1%. Amazon's digital MP3 sales amounted to just a 1.3% share of the market in 2009, up from 0.8% in 2008, but far short of Apple's 26.7% share and its year over year growth in iTunes.
Billboard wrote that Amazon's growth and share was "still well short of where major labels had hoped Amazon's download store would be by now, dimming earlier expectations that it will be able to significantly reduce the labels' heavy dependence on iTunes for digital sales."
The attractiveness of Apple's iTunes Store for music, and the inability of Amazon and other firms (including Sony Ericsson's "PlayNow" online service designed to compete with iTunes, or the Sony BMG/Universal Music "Total Music" service that was shuttered last year) to steal customers away from the iPod maker's music store offerings raises some doubts about Google's newly announced acquisition of Simplify Media, which the company is expected to turn into an online music buying service directed at its Android users. Google's AdMob subsidiary reports that Android users do not buy or even download as much media as Apple's customers.
Apple continues to advance its iTunes music, video, iBooks, and mobile software sales into new markets globally, including recent new expansions of iBooks and app sales in Germany.