US DoJ looking at Apple's iTunes for antitrust issues in music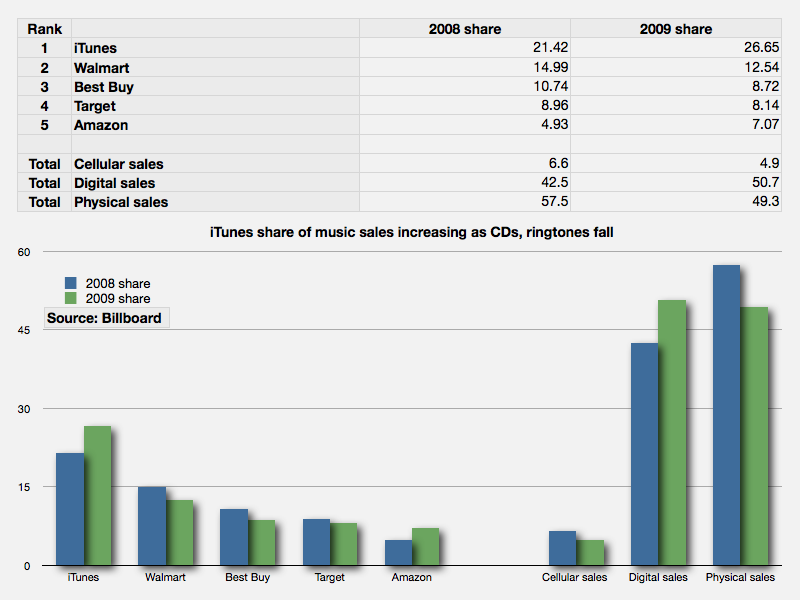 The US Department of Justice is looking into Apple's negotiating tactics with music labels related to sales and marketing within the iTunes Store.
According to report by Brad Stone published by the New York Times, DoJ staff members have started inquiries with music labels as part of a broad investigation of the online music market.
Stone cited "people briefed on the inquires," who said investigators have been particularly interested in allegations that Apple used its market power to seek to prevent the labels from participating in exclusive music distribution deals with rival Amazon.
Two months ago, Billboard reported that Amazon was seeking to obtain exclusive rights to sell new music a day earlier than everyone else, in exchange for special "MP3 Daily Deal" promotion of those songs on its website.
However, rather than focusing the investigation on Amazon leveraging its market power in online sales to gain exclusive distribution deals for music, the DoJ is reportedly looking at Apple for asking the labels to not participate in Amazon's promotion, and its refusing to provide marketing support for songs that were provided to Amazon first.
Apple's increasingly strong position in music
In music sales, Apple leads US online sales with 69 percent market share, according to NPD. Amazon is in second place with 8% share of online sales.
Among all music sales in the US, Apple has a first place position with 26.7% share, while Amazon claims 7% of total music sales. At the same time, Amazon also enjoys a leading 90% share of ebook sales, and a leading position in online book and merchandise sales, with 29 million customers.
The Times report pointed out that Apple created the first successful music marketplace in 2003, and "has since sold more than 10 billion songs, providing a significant source of revenue for the music industry," but that despite its role in persuading consumers to buy music rather than continuing to pirate it, "the music industry has chafed because Apple sets prices and controls the relationship to the music buyers."
It also noted that more recently, "Apple has encouraged new kinds of competition in the online music marketplace by allowing streaming music applications from companies like Pandora and Rhapsody onto Apple devices."
Investigating Apple's success
Apple is also among the tech companies being investigated by the DoJ over hiring practices that allegedly conspired to prevent competitors from hiring each other's employees. That investigation also involves Google, IBM and Intel.
Apple is also under investigation from the US Federal Trade Commission over new provisions of the iPhone SDK which limit developers from using tools other than those provided by the company. That inquiry was initiated by a complaint from Adobe Systems, which was thwarted from using its Flash Professional tools to generate iPhone apps for sale in Apple's iTunes App store.
The FTC was also investigating Apple's potential as a competitor to Google and AdMob in the emerging mobile ads market. It recently determined that Apple's market power in iPhone Apps was a factor in approving Google's bid to acquire AdMob.