AT&T updates iPhone upgrade dates for more customers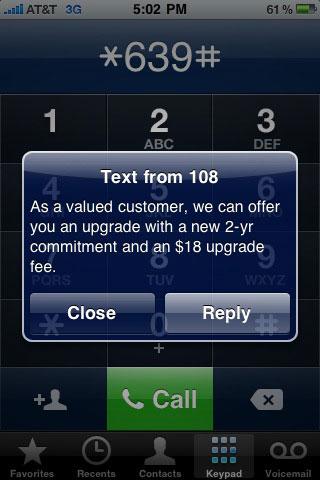 AppleInsider may earn an affiliate commission on purchases made through links on our site.
Ahead of Apple's anticipated next-generation iPhone announcement, AT&T again began moving some customers' upgrade eligibility dates forward to allow them to buy Apple's latest handset.
A number of users have reported that their eligibility for an iPhone upgrade has been updated, allowing them to buy Apple's next-generation iPhone as soon as it goes on sale, fully subsidized with a 2-year contract agreement. Apple is widely expected to announce its latest handset today, during a keynote from company co-founder Steve Jobs.
Customers can see their upgrade eligibility by logging into their account on the AT&T website and selecting "Check Upgrade Options." Upgrade status can also be checked by dialing *639# from the iPhone.
"As a valued customer, we can offer you an upgrade with a new 2-yr commitment and an $18 upgrade fee," AT&T's message to eligible iPhone owners reads.
Though U.S. iPhone customers must sign a two-year contract with AT&T in order to receive the iPhone at a subsidized price, the wireless carrier frequently offers faster upgrades for its highest paying customers. Those with more services and a higher monthly bill typically are not required to wait the full two years before they become eligible.
AT&T previously revealed that generally speaking, customers who spend more than $99-a-month per line are eligible for an upgrade between 12 and 18 months into their contract.
The latest round of upgrades follow previous updates by AT&T in May, when some users saw their upgrade eligibility date moved up by months, to June 21, 2010.
Moving up customers' upgrade dates is the same approach AT&T has taken in the past. Last year, the wireless carrier offered early iPhone 3G adopters the opportunity to purchase an iPhone 3GS as the same $199 and $299 price points as new customers.