New iPhone 4 preorders from Apple now ship by July 2 [u]

Apple has sold out of launch day preorders for the forthcoming iPhone 4, and new orders from the company's website are now said to ship by July 2, more than a week after the handset's launch date.
The delay for those who didn't get in on the first round of preorders applies to both the 16GB and 32GB capacities of iPhone 4. Customers can only preorder the black model, as the white iPhone 4 is currently unavailable for any reservation.
Update: Orders that ship by July 2 are scheduled for delivery between July 6 and July 8, according to Apple, meaning customers may have to wait as long as two weeks after launch to receive the device.
Still available is last year's model, the iPhone 3GS, for delivery on the June 24 launch date. The 8GB phone, which lacks this year's upgrades like a forward facing camera, is just $99 with a two-year contract from AT&T.
Apple's update follows news on Tuesday from AT&T, the exclusive wireless provider of the iPhone in the U.S., which also sold out of its launch day allotment. New orders placed directly through AT&T will not arrive until June 25 or later, "depending on when the order is placed," the company said.
AT&T revealed that the first day of preorders for iPhone 4 was the busiest online sales day in the company's history. The company's systems had difficulty authorizing existing customers for upgrades, and Apple also began rejecting callers from its 800-MY-APPLE number.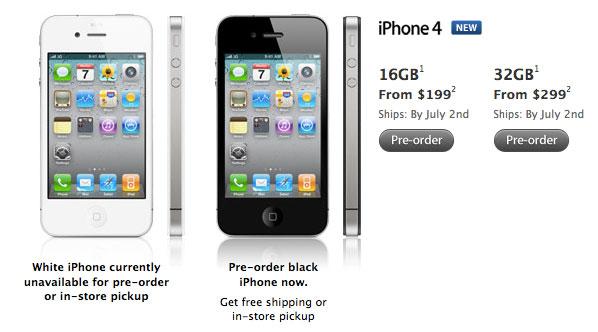 The new iPhone is set to debut debut next week in the U.S., France, Germany, the U.K. and Japan. Apple has announced that the iPhone 4 international launch will ramp up to 87 total countries by September, its fastest global deployment of a new handset.