Mozilla releases first beta of Firefox 4.0 for Mac with crash protection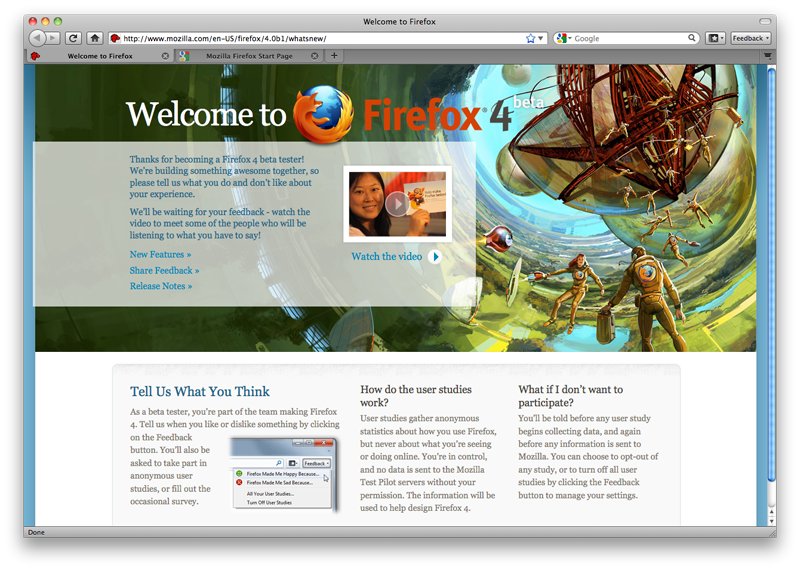 AppleInsider is supported by its audience and may earn commission as an Amazon Associate and affiliate partner on qualifying purchases. These affiliate partnerships do not influence our editorial content.
Mozilla Corporation on Tuesday released the first external beta of Firefox 4.0 for Mac users, the latest version of the firm's popular web browser built atop its new Gecko 2.0 layout engine.
The 20.2MB update introduces crash protection that kicks in when there is a crash in the Adobe Flash, Apple Quicktime or Microsoft Silverlight plugins, allowing users to continue their browsing session unfettered.
It also delivers a new Addons Manager and extension management API, WebSockets support, a new HTML 5 parser, a Web Console analysis tool, native support for the HD HTML5 WebM video format, and more responsive page rendering using lazy frame construction.
Cosmetically, Firefox 4 jettisons the individual stop and reload buttons for a single unified button, replaces the Bookmarks Bar with a Bookmarks Button, and places tabs at the very top of the browser window in a newly designed interface theme.
The latter change isn't fully implemented in the Mac distribution just yet, however, as the development team continues to work on the Mac theme. "Although you can customize Firefox to show tabs on top for OSX, it really doesn't look good," the team said in a set of release notes. "We suggest you wait."
Other changes include partial support for CSS Transitions, full WebGL support (currently disabled), support for more HTML5 form controls, and a Core Animation rendering model for plugins on Mac OS X.
Moving forward in the beta process, Mozilla promises more advanced privacy controls, hardware graphics acceleration, more asynchronous I/O, JavaScript performance optimizations, and the ability to synchronize settings, passwords, bookmarks, history, open tabs and other customizations across multiple devices "so you can take Firefox with you wherever you go."
According to NetApplications, Firefox remains the world's second most popular web browser behind Internet Explorer, commanding roughly a quarter of the market, give or take a percentage over the past six months. It's followed by Google's Chrome at just over 7% share and Safari at just under 5% share.