Pictures of Apple-branded 3cm-by-3cm touchscreen surface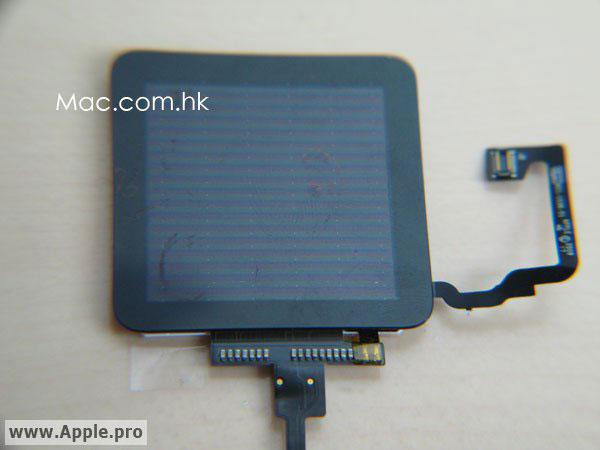 Pictures of a mysterious, tiny display, measuring just 3cm by 3 cm and branded as an Apple part, are claimed to be a small touchscreen that could find its way into one of the company's future products.
The pictures came from Taiwanese blog Apple.pro, which speculated that the screen could be used in an "iPod touch nano," "iPod touch shuffle," or a wristbound product it dubbed "iWatch." As the part is simply the display and no other hardware, it is unknown whether it is actually a touchscreen, or just a small LCD display.
Apple's current iPod nano has a display that measures diagonally 2.2 inches (nearly 5.6 centimeters), larger than the purported Apple part shown in pictures.
Recently, Apple.pro has obtained a number of legitimate Apple parts before the final product was released. The blog showed off the white panel for the then-unannounced iPhone 4 in May, and also offered a look at the battery inside the iPhone 4 in June.
And in 2008, the blog posted photos of the new unibody enclosure of Apple's redesigned MacBook Pro before it was released.
But also in 2008, the site posted photos of an alleged aluminum 13-inch MacBook casing which proved to be false. And in 2009, the blog claimed that Apple was working on a 15-inch MacBook Air.