Survey shows 26% of mobile workers plan to get an iPad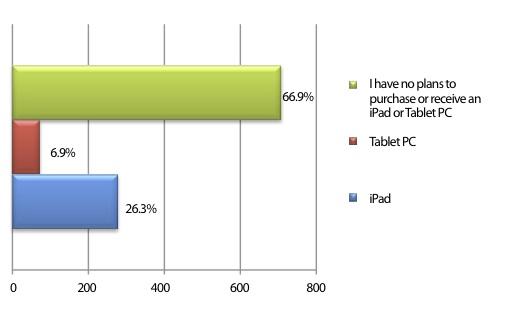 Over a quarter of mobile employees plan to purchase or receive an iPad in the next 6 months, according to a new survey.
The results were published Tuesday in a quarterly Mobile Workforce Report from iPass, a leading provider of enterprise mobility services. The report's survey, which took place in July, included over 1,100 mobile enterprise employees from North America, Europe, and Asia Pacific.
Mobile employees are defined by iPass as "any worker using any mobile device (including laptop, netbook, smartphone, cellphone or tablet) who accesses networks (other than the corporate LAN or WLAN) for work purposes."
Of the employees surveyed, 9.3% have an iPad, 6.8% have a tablet PC, and 1.7% have both. 26.3% of respondents are planning to purchase or receive an iPad in the next 6 months, compared to 6.9% planning to get a tablet PC.
When further questioned about how they would use an iPad or tablet PC, the overwhelming majority of the respondents said they would use the devices for at least some work. Of the 50% of mobile employees surveyed who either already have a tablet PC or iPad or are planning to buy one in the next 6 months, over 90% expected to use the devices for work.
According to the report, employees who pay their own mobile phone bills were more likely to already have or plan to buy an iPad.
The Mobile Workforce Report survey results coincide with a report by The Wall Street Journal Tuesday highlighting growing iPad adoption rates among IT departments at companies.
In a survey of its customers in June, Citrix found that 80% of its business users have plans to purchase and use an iPad for business.
During an earnings call in July, Apple announced that over 50% of the Fortune 100 are currently deploying or testing the iPad.