Smaller iPod nano without click wheel could be unveiled at Apple event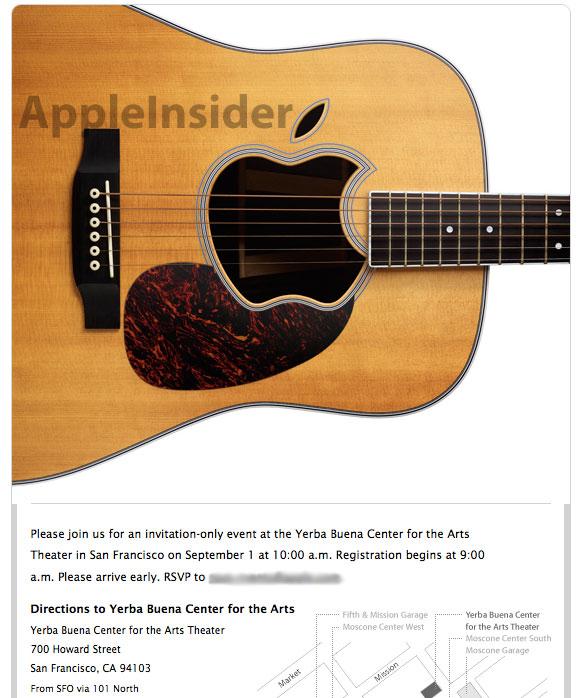 Rumors of a "significant redesign" of Apple's iPod nano have surfaced, suggesting the company could introduce a smaller device with no click wheel at its event next week.
Shaw Wu with Kaufman Bros. issued a note to investors Thursday in which he said one potential surprise from Apple could be a redesigned iPod nano with a smaller form factor and no click wheel. Wu said sources have indicated that Apple has procurement plans for a redesigned iPod nano.
"We frankly are not sure if this model will see the light of day," Wu said. "But this would be a big departure from the design it has had since 2005 when it replaced the iPod mini. From our take, a radical refresh may make sense to jumpstart what was once its top-selling iPod."
He also noted that the image of an acoustic guitar in Apple's invitation to its Sept. 1 event may suggest that the rumored Apple TV update will not be a part of the event. Wu does not believe a new Apple TV will be announced, though he added that the Cupertino, Calif., company "may surprise." But the guitar image in the invitation, coupled with the timing of the event earlier in September than usual, seem to indicate otherwise.
"We find the timing somewhat curious and a little earlier than usual," Wu said. "Historically, AAPL has held these events after Labor Day and sometimes as late as October. Because of the timing and the image on the invite, we would be surprised if a new Apple TV is announced at this event."
He continued: "But then again, AAPL is known to surprise."
The analyst has also heard from sources that Apple will introduce a new iPod touch with most of the features found in the iPhone 4, including a faster processor, high-resolution retina display, video recording, and a forward facing camera for FaceTime video chat.
Apple is also expected to offer a new low-end $199 model with limited storage and the same feature set as last year's iPod touch. This would replace the current entry level model, he said.
Apple sent out invitations on Wednesday for its "special event" on Sept. 1 in San Francisco, Calif. The Wednesday event will begin at 10 a.m. Pacific Time, 1 p.m. Eastern, and will be held at the Yerba Buena Center for the Arts. AppleInsider will have full live coverage.