Apple preps Yerba Buena Center for Sept. 1 event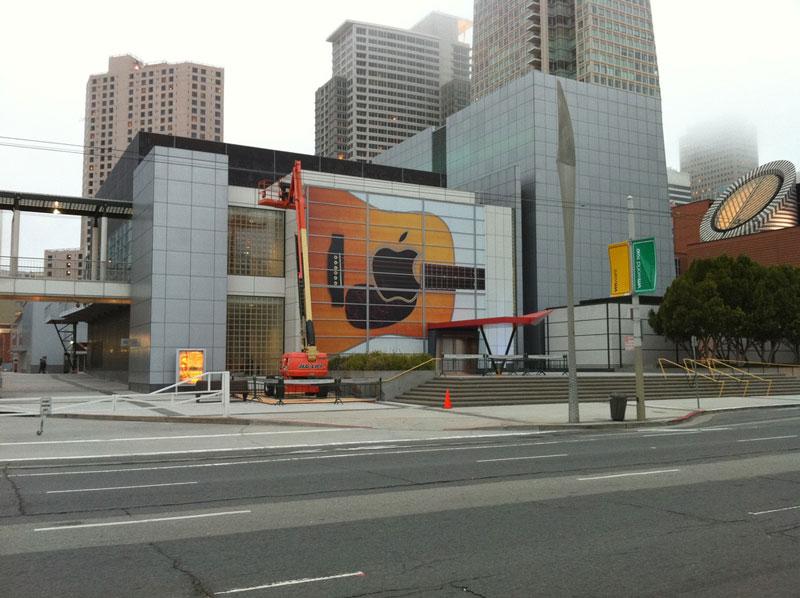 Ahead of the Sept. 1 media event scheduled for next week, Apple has posted its acoustic guitar graphic outside the Yerb Buena Center for the Arts in San Francisco.
Apple sent out invitations for its "scheduled event" on Wednesday. The e-mail included an acoustic guitar with a sound hole in the shape of an Apple logo, alluding to the music-themed nature of Apple's annual iPod-centric event.
That same graphic is now posted outside San Francisco's Yerba Buena Center for the Arts, the same location that has hosted the event for years.
Some have even interpreted the music related graphic to potentially signal the kind of announcements Apple will make next week. However, it remains heavily rumored that the company will release a new $99, iOS-based Apple TV.
Apple is also rumored to announce a new iPod touch with a forward-facing camera for FaceTime video chat functionality. Reports have also indicated that the iPod touch will receive a rear camera and flash, as well as the high-resolution Retina Display currently found on the iPhone 4.
Recent rumors and alleged cases have also suggested that Apple will release a redesigned iPod nano with a small, square form factor and a touchscreen display. One analyst said the iPod nano redesign would be a "big departure" from the current hardware.