Apple's iOS tops Linux to become third largest browsing platform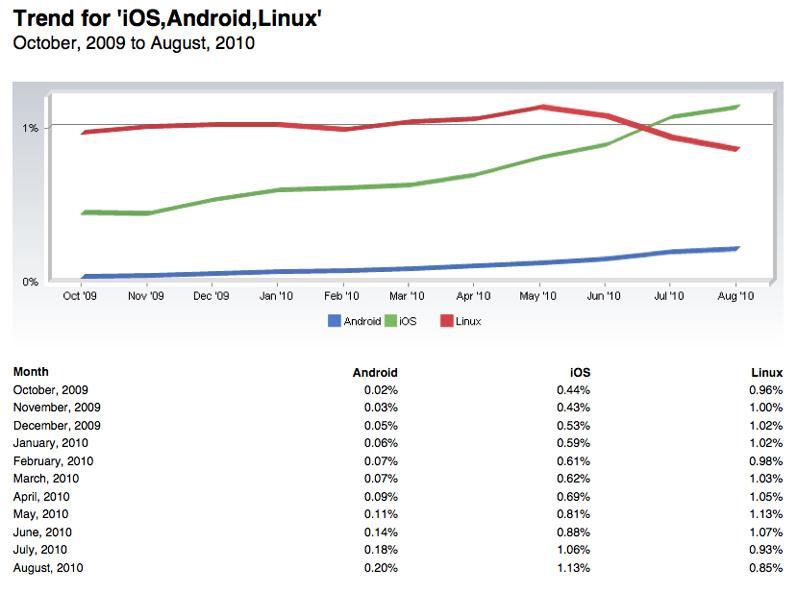 Apple's iOS mobile operating system rocketed past the open source Linux this summer to become the third most popular Web browsing platform on the Internet.
A new release from Web traffic firm Net Applications has revealed that iOS share overtook Linux in July, when it represented 1.06 percent of all Web traffic, verus the 0.93 share of Linux. Apple's mobile platform grew even more in August, when it represented 1.13 percent, compared to a shrinking share for Linux, down to 0.85 percent.
For perspective, Linux's share more than doubled the total iOS Web browsing presence last November, when Apple's platform was used for 0.43 percent of traffic, versus the 1 percent share held by Linux at the time.
Net Applications recently changed its methods to categorize iPhone, iPod touch and iPad devices under the iOS umbrella. With the newly revised reporting, the firm discovered that the total number of iOS devices has exceeded Linux.
iOS is now the third most popular Web browsing platform in the world, behind only Apple's Mac OS X and Microsoft Windows. To top Mac OS X, it has a ways to go, as version 10.5 has a 1.73 percent share, and the latest version, 10.6, is responsible for 2.59 percent of all Web traffic.
In comparison, Google's Android mobile operating system accounted for 0.2 percent of all Web traffic in the month of August, up from 0.18 percent in July. Android has seen a steady increase in Web presence since it was a minuscule 0.02 percent in October 2009.
In July, Net Applications found that the iPad had passed Google Android in total browser usage share. The iPad alone — just one of the three iOS-based devices that Apple sells — took 0.17 percent of all Web browser traffic after just three months on the market.
At Wednesday's keynote, Apple Chief Executive Steve Jobs revealed his company had shipped more than 120 million iOS devices since the iPhone first launched in 2007. He also revealed that the company is activating a little over 230,000 iOS devices per day, with new activations only.