Microsoft begins Windows Phone 7 media blitz with new teaser ad
By Josh Ong
Monday, September 06, 2010, 06:30 pm PT (09:30 pm ET)
Microsoft has posted its first teaser video advertisement for the upcoming Windows Phone 7.

The one-minute ad, posted on the official Windows Phone UK YouTube channel, was created for a Secret Cinema showing of 'Lawrence of Arabia,' and spoofs the iconic mirage scene from the film.

With the Windows Phone 7 launch just months away, Microsoft has begun ramping up publicity for the new mobile OS. Windows Phone UK is partnering with Secret Cinema to bring "a new level of connectivity" to the Secret Cinema experience and raise awareness of Windows Phone 7.

Microsoft is expected to spend over $500 million on marketing at launch.

The Redmond, Wash., company faces tough competition when it comes to marketing, as its rival Apple has consistently been recognized as a leader and innovator in marketing its products. In December 2009, Apple was recognized as "Brand of the Decade" by Adweek.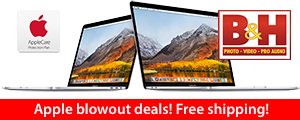 2018 13" Touch Bars
Price
Save
2.3GHz/8GB/256GB (Gray)
$1,699.00+
$100
2.3GHz/8GB/512GB (Silver)
$1,879.00+
$20
2.3GHz/16GB/512GB (Gray)
$2,099.00+
$100
2.7GHz/16GB/512GB
$2,449.00+
$50
2.7GHz/16GB/1TB
$2,849.00+
$50
2018 15" MacBook Pros
Price
Save
2.2GHz/16/256GB/555X
$2,215.00+
$185
2.2GHz/32/1TB/560X
$3,449.00+
$50
2.6GHz/16/512GB/560X
$2,575.00+
$224
2.6GHz/16/1TB/560X (Gray)
$2,999.00+
$200
2.6GHz/32/1TB/560X (Gray)
$3,399.00+
$200
2.6GHz/32/2TB/560X (Gray)
$3,999.00+
$400
Click here for dozens more configurations
+ Free shipping within the contiguous U.S.
Lowest Prices Anywhere!

13" MacBook Pros
Price
You Save
3.1GHz/8GB/256GB Gray
$1,679.00
$120.00
3.1GHz/8GB/256GB Silver
$1,704.00*
$95.00
3.1GHz/8GB/512GB Gray
$1,849.00*
$150.00
3.1GHz/16/512GB Gray
$2,099.00
$100.00
15" MacBook Pro
Price
You Save
2.8GHz/16/256/555 Silver
$2,199.00*
$200.00
2.8GHz/16/256/560 Gray
$2,299.00
$200.00
2.9GHz/16/512/560 Gray
$2,599.00
$200.00
2.9GHz/16/1TB/560 Gray
$2,999.00
$200.00
3.1GHz/16/512/560 Gray
$2,799.00
$200.00
3.1GHz/16/2TB/560 Gray
$3,899.00
$300.00

*

price with Promo Code:

APINSIDER

prices.appleinsider.com for more configurations