Android users quicker than iPhone users in upgrading to new OS versions - report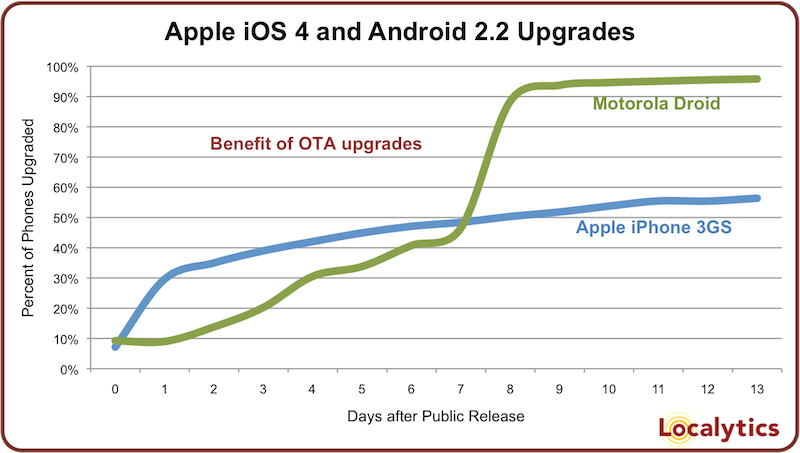 AppleInsider is supported by its audience and may earn commission as an Amazon Associate and affiliate partner on qualifying purchases. These affiliate partnerships do not influence our editorial content.
Motorola Droid users have a higher adoption rate of Android 2.2 than that of iPhone 3GS users and iOS 4.0, according to a new report.
Mobile app analytics firm Localytics took a look at data from its analytics reports to compare the upgrade rates of two major smartphone upgrades from the summer: Android 2.2 (aka Froyo) on the Motorola Droid and iOS 4.0 on the iPhone 3GS. Android 2.2 for Motorola Droid was released on Aug. 12 and iOS 4.0 was released on June 21.
Based on the data, Localytics concluded that over-the-air upgrades result in a significantly higher upgrade rate. After two weeks, 96 percent of Droid users had upgraded to the new Android OS, while only 56 percent of iPhone 3GS users had upgraded. Even two months after the release of iOS 4.0, just 80 percent of iPhone 3GS users had upgraded.
iPhone users are quicker to upgrade in the first few days, though. Within the first couple days of the iOS 4.0 release, over 30 percent of iPhone 3GS users upgraded. In contrast, it took Android users, who had to wait for OTA Android upgrades to gradually roll out to them, four days to reach a 30 percent upgrade rate.
To Localytics, the lower iPhone 3GS upgrade rate reflects a general shift away from smartphone reliance on PCs/Macs. "Smarter phones and cloud-based services make connecting phones to computers virtually unnecessary," wrote Localytics.