Morgan Stanley: Apple's iPad consuming 25% of PC notebook sales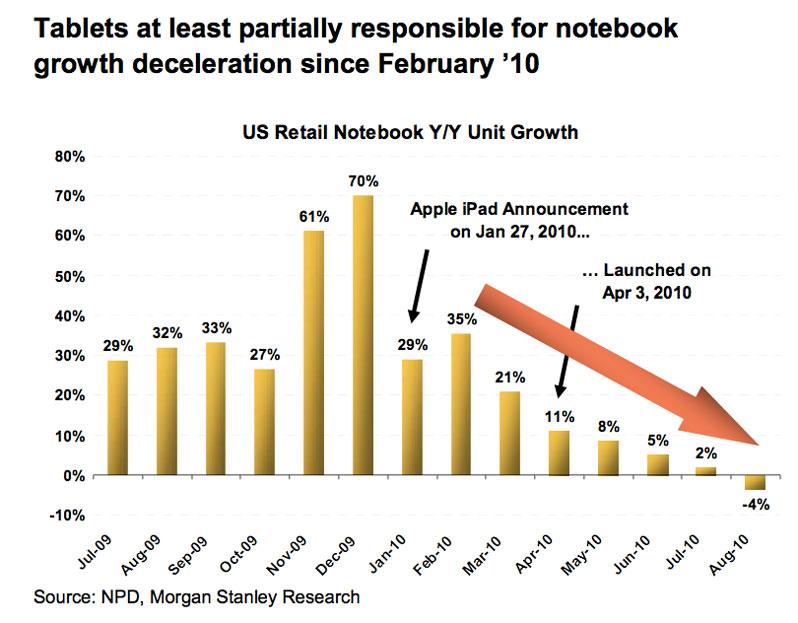 AppleInsider is supported by its audience and may earn commission as an Amazon Associate and affiliate partner on qualifying purchases. These affiliate partnerships do not influence our editorial content.
A new model demonstrating the notebook sales trends over the past year shows a significant market-wide decline since the introduction of Apple's iPad.
Analyst Katy Huberty with Morgan Stanley revealed in a note to investors this week that her firm has assumed that the iPad has "cannibalized" 25 percent of PC notebook sales since its introduction in April. The analyst referenced a claim made this week by the chief executive of electronics retailer Best Buy, who said that the iPad has reduced some notebook sales by as much as 50 percent.
The data from Morgan Stanley Research, based partly on NPD sales figures, shows that notebook sales were up 35 percent year over year in February, but by August they had decreased to a loss of 4 percent from a year prior.
The Wall Street firm has adjusted its projected notebook and tablet sales for the next year accordingly. Huberty now expects PC unit growth to increase 13 percent in calendar year 2010, down from the 15 percent she previously expected. In addition, she sees another 8 percent growth in 2011, decreased from the previous prediction of 13 percent.
Huberty now expects to see a total of 50 million tablets sold in calendar year 2011. That's up from her previous forecast of 37 million.
"We expect tablets to continue to pressure PCs as more vendors launch products (e.g. Dell Streak and Samsung Tab) and Apple expands its iPad distribution (e.g., China and five Latin American countries by September 17)," she wrote.
The figures support findings from a survey released earlier this year by Morgan Stanley, in which 44 percent of iPad buyers said they viewed the device as a notebook replacement. Another 41 percent of people in that survey said they would not buy an iPod touch as a result of their purchase, and 27 percent said they would not buy a desktop PC.
Huberty of late has been bullish on AAPL stock, and expects it to potentially hit $400 in 2011, in a best-case scenario. She also sees Apple reaching 100 million active iPhone subscribers by the end of 2011.