Sports Illustrated says unfair iPad subscription terms led to cut features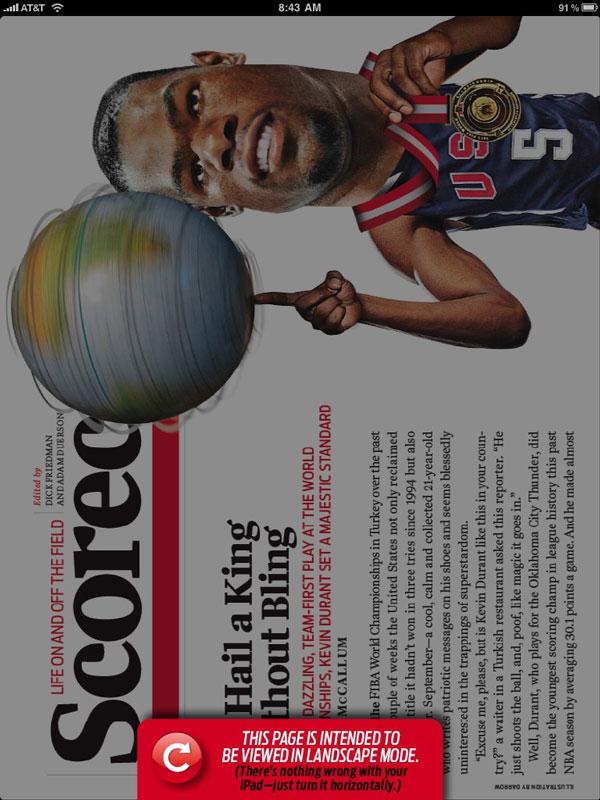 The latest issue of Sports Illustrated only supports viewing in "landscape" mode, as the publication has said that they were forced to cut costs because Apple does not allow iPad subscriptions at "a reasonable price."
As noted by Peter Kafka of MediaMemo, the SI application previously supported viewing in portrait mode, but the latest issue doesn't rotate like it used to. Instead, users are met with an error message that reads "This page is intended to be viewed in landscape mode. (There's nothing wrong with your iPad — just turn it horizontally.)"
The magazine decided to do this in part because it believes that photo-driven magazines are best viewed horizontally. In addition, only offering the magazine in landscape mode cut down on the file size by 30 percent, making the latest issue download faster for users.
But Josh Quittner, an editor with Time magazine, revealed that the change was also done as a cost-cutting measure. Because designers must only create the magazine in one format, it cuts their work by at least a third.
He also went on to suggest the company will concentrate its efforts on other platforms where it sees growth potential, because Apple does not currently allow publications to offer iPad subscriptions "at a reasonable price."
"Why not add more designers?" Quittner said. "Well, if we were able to build a real business, with subscriptions that offered our iPad versions to readers at a reasonable price, that would be a no brainer. But we can't yet, so the best approach for us is to experiment with the format, marshal our (human) resources and start building products on other platforms that will allow us to scale up as our business grows."
He went on to say that if readers do not like the change, Sports Illustrated can always go back and support portrait mode again. He said that's the "beauty of the current market," as content providers have room to experiment without committing "fatal mistakes."
In August, another Time publication, People, began offering free access to its iPad application for existing subscribers. But publishers apparently remain unsatisfied with Apple's business model for new subscriptions.
Last week, it was rumored that Apple is working on a subscription plan for print publications, which would include a revenue sharing model similar to the one used for applications sold on the App Store. The purported program would offer an opt-in function which would allow subscribers to share their personal information with publications — information considered imperative for advertising.
That new subscription model could be tied to a standalone application that would serve as a separate digital newsstand for magazines and newspapers. The application, said to be in the early stages, is expected to offer access to magazine and newspaper content in a manner similar to how the iBooks application sells digital versions of print books.