Materials cost for Apple's sixth-gen iPod nano estimated at $43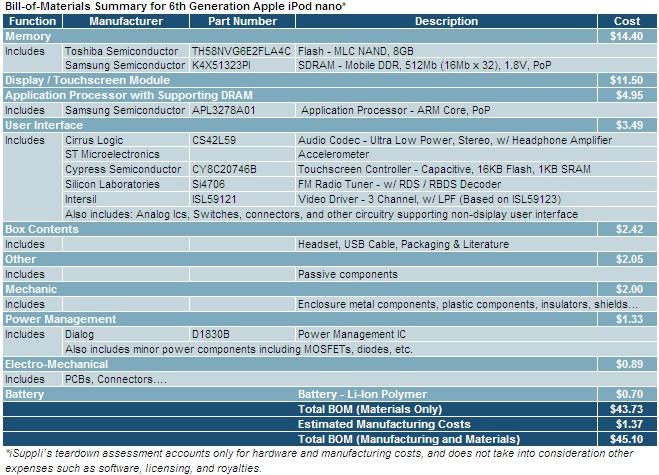 A breakdown of the sixth-generation iPod nano's parts by iSuppli places the estimated material cost at $43.73.
Market research firm iSuppli sees the newest iPod nano, which was announced on Sept. 1, as further proof that sometimes "less is more." The device exhibits "remarkable economy in terms of its size, feature set and Bill of Materials (BOM)," wrote iSuppli in its BOM report on Monday.
iSuppli's teardown analysis claims that the parts in the 8 GB version of the sixth generation nano cost $43.73. Manufacturing costs are estimated at $1.37. Based on iSuppli's breakdowns of all six generations of the iPod nano, the current generation ranks as second least expensive.
"Instead of piling on features, as so many brands do with their latest products, Apple with the sixth-generation iPod has maintained or even removed some attributes in order to fit the form factor and function desired," said iSuppli principal analyst Andrew Rassweiler. "This has enabled Apple to offer the smallest iPod including a touch screen, while keeping component costs to a strict budget."
The touch-screen and memory comprise more than half of the materials cost, according to the report. Toshiba provides the Flash memory, while Samsung provides the RAM and the application processor.
If iSuppli's estimates are to be believed, the lower cost of materials and manufacturing leaves wider profit margins for Apple. The sixth generation iPod nano's material and manufacturing costs make up 30 percent of the device's retail price, compared to 33 percent in previous years. The 8 GB model retails for $149.
According to Apple, these types of cost breakdowns should be taken with several grains of salt. During the Cupertino, Calif., company's Q3 2010 earnings call in July, chief financial officer Peter Oppenheimer disparaged component cost estimates by third-party companies like iSuppli.
"Let me begin by suggesting that you don't put a lot of credence in these third-party reports that you see. It's always amazing to me the cost categories and the components that never seem to make it into the reports," Oppenheimer said in response to a question about the cost structure of iPhone 4 in relation to gross margins.