Barclays puts $385 target on Apple, sees 150M FaceTime devices by 2012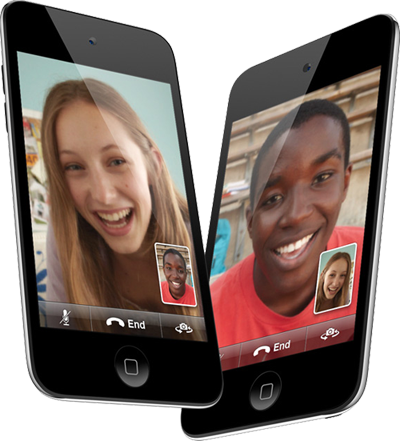 British investment bank Barclays Capital on Tuesday raised its price target on shares of Apple by more than 10% to $385 per share, citing strength in all four of the company's core product segments and expectations it will build a network of 150 million FaceTime-enabled devices over the next two years.
"We are raising our estimates and target for Apple to reflect our view that the company is seeing strong demand not only for the iPad and the iPhone 4 but also for Macs and new iPods," analyst Ben Reitzes wrote in a note to clients. "Long-term, we are excited about Apple's potential to grow via networked devices through FaceTime, which we expect to be enabled on all Apple devices over time."
More specifically, the analyst is projecting Apple to sell almost 40 million FaceTime compatible iPhones in fiscal 2011, 15 million FaceTime compatible iPods, and 8 million FaceTime compatible iPads – for a total installed base of over 63 million FaceTime devices by the end of the fiscal year.
"That's a nice start to create a powerful networking effect," he wrote. "In [fiscal 2012] we see that figure jumping to an installed base of over 150 million FaceTime enabled devices, which could prove conservative if FaceTime is put in all iPads and all Macs."
Introduced this past summer alongside the iPhone 4, FaceTime is Apple's open standard for conducting video conferencing across devices using WiFi and VOIP, and capable of switching from a cellular connection to a video seamlessly. Users only need to register an Apple ID and own a supporting product to make use of the technology.
Given Apple's high share among college students, Reitzes said he envisions a world where an entire campus could eventually communicate in some way using FaceTime on a device if desired. And while he believes Google's Android platform can do a "good job" with a similar type of feature, it seems that Apple is offering more of a complete package to make FaceTime grow into a multiplier for its device sales through vertical integration.
"We believe the 'FaceTime networking effect' could provide a halo effect on Macs and iPads once the feature becomes available," the analyst wrote. "Note that FaceTime is an 'open standard' so if Apple is successful in making this feature ubiquitous, more non-Apple devices could be made compatible in the future."
Reitzes also acknowledge Apple's diligence in its implementation of the FaceTime standard thus far, making it mandatory to conduct video conferencing rather than just voice. "Obviously, carrier partners would not want FaceTime to provide a one- button VOIP option that would be a much more affordable voice option for Apple customers," he explained. "As a result, over time Apple could arguably remake voice calling if it chose to – through FaceTime – allowing customers to make calls through VOIP easily (over WiFi or a 3G/4G network)."
Reinforcing their convictions, Reitzes and his team raised their per-share earnings estimates for Apple through fiscal 2011, driven by prospects for higher margins and significantly higher iPad sales — thanks to improved production and distribution — into the fourth quarter and higher iPhone sales.
They now estimate fiscal 4Q per share earnings of $4.05 (up from $3.91), based on 59% year-over-year revenue growth to $19.45 billion (up from $19.2 billion) and gross margin of 37.3% (up from 36.8%). Their 4Q estimates include Mac unit growth of 23% year-over-year to 3.75 million (unchanged), an iPod unit decline of 8% year-over-year to 9.4 million (unchanged), iPhone units of 12.8 million (unchanged) and 4.8 million iPad units (up from 4.3 million).
For all of fiscal 2010, they're estimating per share earnings of $14.56 (up from $14.43) based on 50% year-over-year revenue growth to $64.3 billion (up from $64 billion). Meanwhile, their fiscal 2011 per share earnings estimates rise to $17.80 (from $16.92) based on 27% year-over-year revenue growth to $81.8 billion (up from $79.4 billion) and gross margin of 38.4% (up from 37.9%).
"Even at this market cap, we continue to believe Apple is the best growth play in the IT Hardware segment – with prospects for significant double digit organic revenue growth for several more years," Reitzes wrote. His new price target on shares of the company stands at $385 (up from $340), representing 15x his fiscal year non-GAAP EPS estimate of $20.80, excluding interest income but adding back cash.