AutoCAD returns to the Mac after 18 year hiatus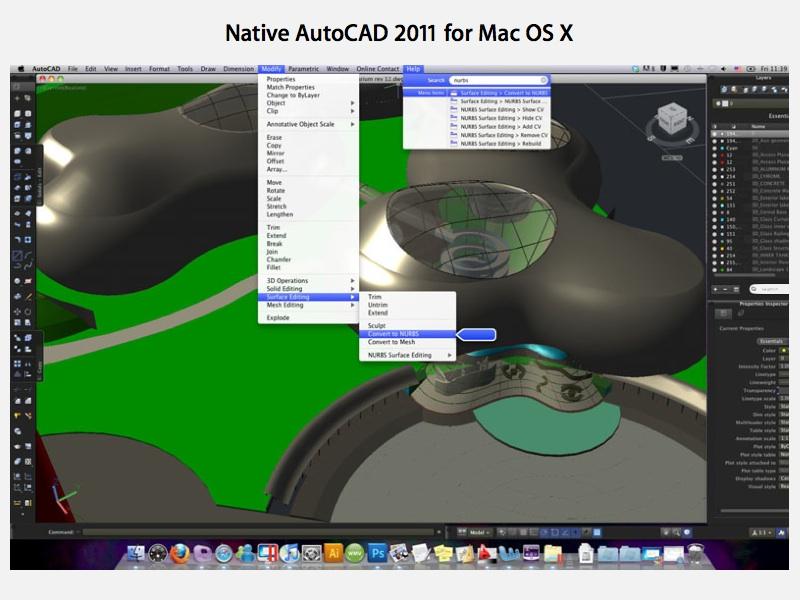 AppleInsider is supported by its audience and may earn commission as an Amazon Associate and affiliate partner on qualifying purchases. These affiliate partnerships do not influence our editorial content.
Autodesk has officially introduced AutoCAD 2011 for Mac OS X, bringing its freeform 3D design and drafting tools back to the Mac after an 18 year hiatus.
Word of a secret AutoCAD for Mac beta program first surfaced this spring, and was only confirmed by Autodesk in August.
At the time, the company targeted a release date in October, which it has now met with the new release. The high end product uses an interface familiar to existing Windows AutoCAD users, while adding support for a variety of Mac OS X features including CoverFlow for browsing through design files graphically, support for multitouch trackpad gestures for pan and zoom, and native help.
Andrew Handley, the CAD development manager for the UK-based Styles&Wood, commented that as a beta tester, "we have been waiting a long time for AutoCAD to come back to the Mac. Our experience has been that AutoCAD for Mac is similar enough to the PC version that the transition is easy. We've found it to be a very powerful and reliable product that has all the functionality we need."
The program is designed to seamlessly migrate AutoCAD DWG documents between Mac and Windows PC users, enabling companies to deploy the software without regard to the hardware and operating system their users have.
The company notes that "you can create custom scripts, linetypes, hatch patterns, and command aliases, as well as AutoLISP® and ObjectARX applications, in AutoCAD 2011 for Mac; however, there is no support for DCL in AutoLISP, nor is there access to some of the custom AutoCAD user interface controls in ObjectARX. Technologies specific to Windows®, such as Visual Basic for Applications, OLE objects, and Windows Media® Audio, are not supported in AutoCAD 2011 for Mac."
It also notes that "the most commonly used functionality of AutoCAD is included in AutoCAD for Mac. However, there are a few commands that are not included in this first release, including layer filters, layer groups, and layer states; Sheet Set Manager; and DGN, PDF, and DWF™ underlay support."
AutoCAD for Mac is available for a free 30 day trial, and is also available to students and educators for free for personal use, or at a significant discount for classroom and lab use. The product can also be purchased directly through the Autodesk Store.
AutoCAD 2011 for Mac requires a relatively new Intel Mac with a 64-bit CPU, 3GB of RAM, and a 1280x800 display. Autodesk specifies a minimum hardware baseline of the "iMac 8,1" from early 2008, the late 2008 "MacBook 5,1" or early 2009 "Mac Mini 3,1" but recommends using the "iMac 11,1" from late 2009, or the mid 2010 "MacBook 7,1" and the brand new "Mac mini 4,1" which was released in June.
Autodesk has also released a free iOS app called AutoCAD WS for the iPhone, iPod touch and iPad that enables users to view, share, and make minor modifications to their designs DWG format. There is also a web based tool for online document review and editing.