Online ad revenue from Apple's iPad grows 316% in Q3 - report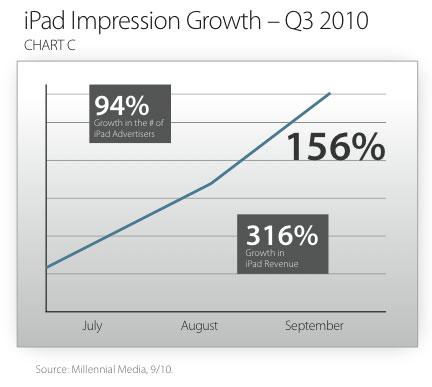 AppleInsider is supported by its audience and may earn commission as an Amazon Associate and affiliate partner on qualifying purchases. These affiliate partnerships do not influence our editorial content.
Advertising revenue generated from iPad users increased 316 percent in the third quarter of calendar 2010, as the number of advertisers also grew by 94 percent.
The data was revealed Tuesday as part of the monthly "MobileMix" report for Sept. 2010 from advertiser Millennial Media. The company revealed that iPad impression growth in the third quarter increased 156 percent, while ad requests on Apple's iPad grew 63 percent month over month in September alone.
Just released in April, the iPad is already the second-largest "connected device" tracked by Millennial Media, behind only Apple's iPod touch. In third place is the Sony Playstation Portable, while the Sony PlayStation 3 is in fourth.
The iPad surge helped Apple's iOS mobile operating system see a 10 percent overall increase in ad impressions for the third quarter of 2010. But iOS lagged behind rivals Android, which saw impressions grow 37 percent for the quarter, and RIM's BlackBerry, which increased 18 percent.
The tracked third quarter of calendar 2010 was the fourth quarter of Apple's fiscal year, the details of which were revealed Monday. Apple announced that it sold 4.19 million iPads in the September quarter, an increase from the product's first quarter of availability, when 3.27 million units were shipped.
The iPad has continued to grow as an advertising platform, according to Millennial's tracking. The company previously revealed that the iPad had seen a 76 percent month-over-month increase during August 2010.
Overall iOS market share tracked by the advertising firm was relatively static at 46 percent, shrinking 2 percent from a month prior. Google's Android platform continues to gain ground on Apple, growing from 26 percent in August to 29 percent in September.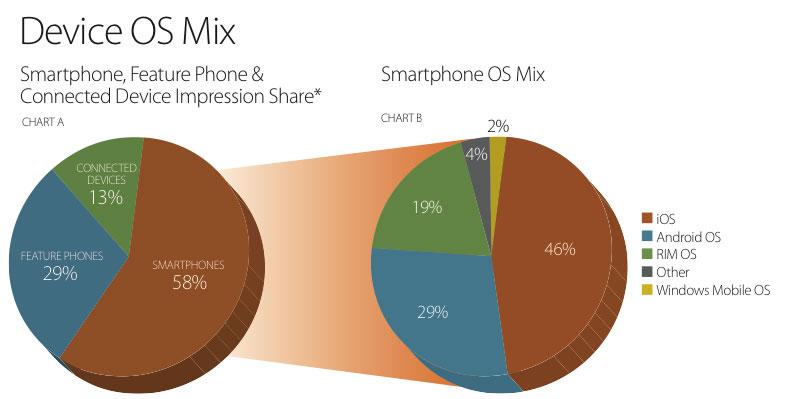 Apple and Android have publicly disputed one another over new device activation numbers, but on Monday Apple Chief Executive Steve Jobs admitted that Android outsold the iPhone in the June quarter, citing numbers from Gartner which he said he believes are "pretty accurate."
Jobs said that in the June quarter, many customers were waiting to buy the iPhone 4. He said Apple is waiting to find out what happened in the September quarter, but it's hard to track because there is no "solid data" on how many Android devices are shipped each quarter.
Jobs made headlines Monday when he passionately defended the iPad, iPhone and Apple's iOS mobile operating system, while slamming Google's Android. Jobs criticized Google's characterization of Android as "open" and the iPhone as "closed," suggesting that the alleged fragmentation of Android was an issue for the platform.
"I imagine we'll be competing with them for quite some time," Jobs said of Google and Android, "but we have very different approaches."