Apple owns another 70 acres at North Carolina data center site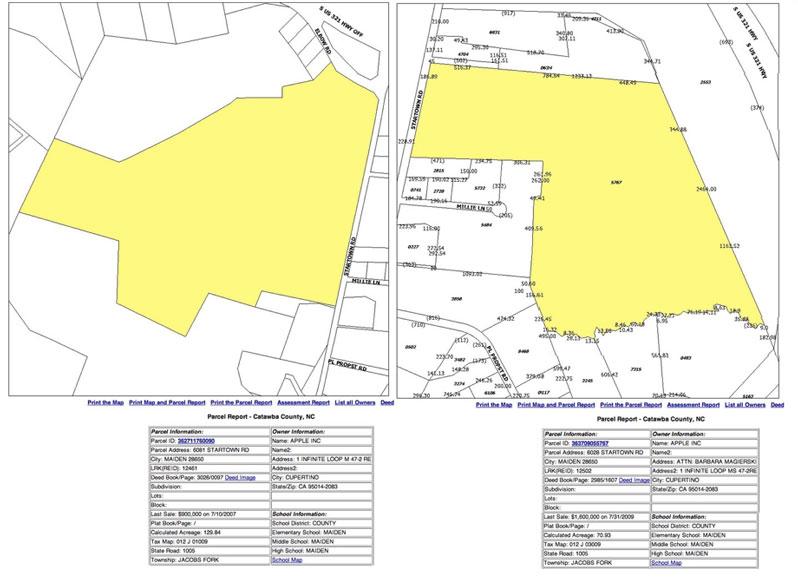 In addition to the 183-acre parcel where Apple's 500,000-square-foot data center will be built, the company owns an additional 70 acres across the street, suggesting the server farm could do more than just double in size.
When Apple purchased the property for its data center in Maiden, N.C., in 2009, reports indicated the deal was for 183 acres of land. But as discovered by John Paczkowski of Digital Daily, Apple actually owns another 70 acres across the street, also purchased in July of last year, to be used for an unknown purpose.
"The scuttlebutt around Maiden is that the company intends to use it for office space. But that seems unlikely," the report said. "A more plausible explanation is that this parcel, too, will be used for data center space."
If true, the use of the additional 70 acres could mean that Apple's data center will become much larger than anticipated. Late last week, it was revealed that Apple may already have plans to double the North Carolina site to 1 million square feet.
This week, additional evidence to support an expanded facility was revealed, as plans for the site include "Phase 2" with a second, seemingly identical building. The current 500,000-square-foot data center, expected to fully open by year's end, is already five times larger than the company's current data center in Newark, Calif.
Apple first announced the location of its secretive massive data center in July 2009. The company has hired staff for the $1 billion facility, but its exact purpose remains unknown.
Apple has invested heavily in the property, paying as much as $1.7 million to relocate a family for just one acre of land. Codenamed 'Project Dolphin' by government officials, the data center is expected to directly provide jobs for 50 people, and also generate 250 auxiliary jobs and as many as 3,000 peripheral jobs for the local area.