Apple's iPhone tops US smartphone shipments, but Android devices take 44%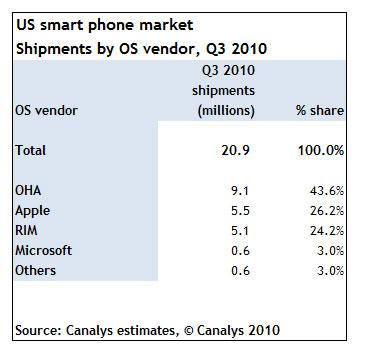 Apple's iPhone was the best-selling smartphone in the third quarter of 2010, taking 26.2 percent of the market, but the wide variety of handsets running Google's Android represented a commanding 43.6 percent.
New data from Canalys released on Monday shows that Apple took the top spot in the U.S. as the best-selling smartphone vendor in the country. Apple's 26.2 percent share edged Research in Motion's 24.2 percent, giving Apple the greatest shipments of any vendor in the U.S., which is the largest smartphone market in the world.
However, Canalys also found that devices running Google's Android mobile operating system represented 43.6 percent of U.S.shipments in the third quarter of 2010. Worldwide, Android grew 1,309 percent from the same period a year ago, from 1.4 million shipments in the third quarter of 2009 to more than 20 million units during the three-month span this year.
"With Samsung, HTC, Motorola and Sony Ericsson all delivering large numbers of Android devices, and with focused efforts from many other vendors, such as LG, Huawei and Acer, yielding promising volumes, the platform continues to gather momentum in markets around the world," said Canalys Senior Analyst Pete Cunningham.
"Android has been well received by the market and in some geographies it is becoming a sought-after consumer brand. It has rapidly become the platform to watch, and its growing volumes will help to entice developers, ensuring consumers have access to an increasingly rich and vibrant mobile content and application ecosystem."
The numbers show a total of 9.1 million smartphones running Android from the Open Handset Alliance being shipped in the third quarter of 2010. That was ahead of the estimated 5.5 million iPhones sold in the three-month frame. Research in Motion's BlackBerry came in third in the mobile operating system race, shipping an estimated 5.1 million, followed by Microsoft with 600,000.
Recent studies have repeatedly shown that Android-based smartphone shipments have eclipsed Apple's iPhone in 2010. Some have shown that Android's growth was not slowed by the launch of the iPhone 4 this summer.
Apple and Android have publicly disputed one another over new device activation numbers throughout 2010. But on last month, Apple Chief Executive Steve Jobs admitted that Android outsold the iPhone in the June quarter, citing numbers from Gartner which he said he believes are "pretty accurate."
Jobs said during his company's quarterly earnings call that in the June quarter, many customers were waiting to buy the iPhone 4. He said his company is waiting to find out what happened in the September quarter, but it's hard to track because there is no "solid data" on how many Android devices are shipped each quarter.
Apple just had its best quarter ever, selling a record 14.1 million iPhones. That helped the company achieve 70 percent growth in profits to $4.31 billion.