Inside AirPrint: How to add iOS printer sharing back to Mac OS X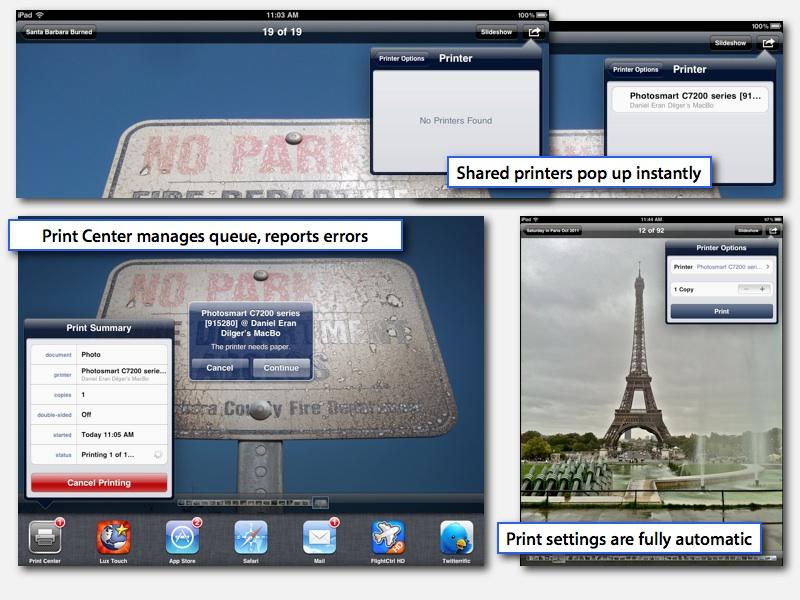 Experimenters have discovered the configuration files Apple removed from the public release of Mac OS X 10.6.5; adding them back restores the ability to print from iOS devices to shared printers on the Mac.
AirPrint for shared printers on Mac OS X works using a CUPS filter. CUPS (Common Unix Printing System) is an open source package that serves as the printing architecture for Mac OS X, Linux, and other Unix-like operating systems. Apple adopted CUPS in 2002, and since 2007 has owned the code and maintained the CUPS open source project.
CUPS uses filters to process incoming print jobs and convert them into a format suitable for a given printer. AirPrint on iOS creates a print job in a format called URF, which needs to be converted to PDF to enable printing on any printer.
Step one in activating AirPrint under CUPS is to install the "URFtoPDF" CUPS filter Apple wrote and included in developer builds of the Mac OS X 10.6.5 update, but removed from the public version for unknown reasons (believed to be related to patent issues).
Additionally, two other CUPS MIME files must be overwritten: one "apple.types," simply includes a definition of the image/urf MIME type for CUPS, which is used when advertising a shared printer's features over Bonjour. The second, "apple.convs," simply specifies that print jobs of the image/urf MIME type should use the urftopdf filter.
Once these files are installed on Mac OS X 10.6.5, the system must be rebooted and existing printers should be deleted and recreated. The moment Printer Sharing is turned on for a fresh printer queue, its name appears instantly on searching iPads or other iOS devices running iOS 4.2, thanks to Bonjour network advertising, which is turned on when a printer is shared.
Interestingly, one reader points out that Apple compiled the urftopdf filter in PowerPC code as well as for Intel, suggesting that the company may release a standalone update that brings the feature to Leopard users in addition to Intel-only Snow Leopard users. Additionally, a developer has outlined how to add AirPrint features to other operating systems that use CUPS (such as Linux) using the open source Avahi code, which works like Bonjour.
AirPrint appears to automatically select most options for the user. In AppleInsider testing, printing an email or similar document resulted in a standard printed page, while printing a photo selected the photo-sized paper tray and photo-quality printing settings on the (non-ePrint) HP 'all in one' model we tested against.
This highly automatic printing system makes it easy to create printed documents from content on mobile devices, at the expense of not allowing users (so far) to create customized print jobs. However, users on a mobile device are likely to prefer a simple, easy to use system that generally selects the most sensible settings for them, rather than forcing the user to wade through complex print configuration pages just to generate a printed photo or a hard copy of a document.