Nvidia announces high-end Fermi GPU for Apple's Mac Pro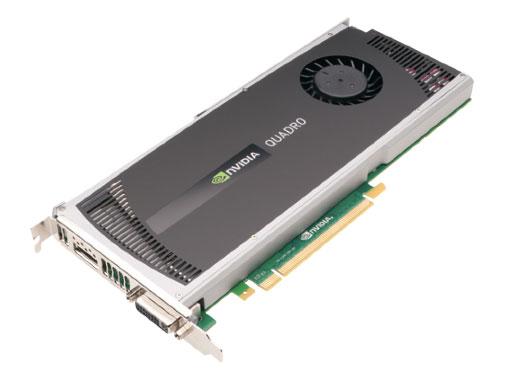 AppleInsider may earn an affiliate commission on purchases made through links on our site.
Nvidia has announced the Fermi-powered Quadro 4000 GPU for Mac Pro upgraders, while Apple has begun sale of the ATI Radeon HD 5870 graphics card for the Mac desktop.
Nvidia announces Quadro 4000 for Mac
The new Nvidia Quadro 4000 brings the company's Fermi architecture to Mac Pro users. With a suggested retail price of $1,199, it will be available later this month at Apple's website and authorized resellers, as well as other distribution partners.
Film and video professionals running Mac OS X 10.6 Snow Leopard can take advantage of the Adobe Mercury Playback Engine in Adobe Premiere Pro CS5, as the software leverages Nvidia CUDA parallel processing technology. Other software that takes advantage of the high-end GPU are effects and image processing applications NUKE and STORM from The Foundry, as well as MATLAB from MathWorks.
"Adobe Premiere Pro CS5 and the Adobe Mercury Playback Engine, accelerated by Nvidia Quadro GPUs, have redefined the non-linear editing workflow, delivering huge productivity gains," said Ginna Baldassarre, senior product manager at Adobe.
"Adobe looks forward to working with Nvidia to help more Mac users reap the benefits of real-time performance and the ability to create compelling, multi-layer projects with multiple HD or higher resolution video clips, all while instantly viewing results."
Officials from MathWorks and The Foundry praised the power that the Fermi architecture brings to the Mac platform. Minimum system requirements include Mac OS X 10.6.5 with early 2008, early 2009 and mid-2010 Mac Pro models.
The high-end Nvidia Quadro 4000 GPU for Mac, with 256 NVIDIA CUDA processing cores and 2GB of fast GDDR5 memory, delivers exceptional graphics performance across a broad range of design, animation and video applications, the company said. With new Nvidia Scalable Geometry Engine technology, the Quadro 4000 for Mac can process up to 890 million triangles per second, enabling professionals to design, iterate and deliver higher quality results in less time.
Apple now selling ATI Radeon HD 5870
This week the ATI Radeon HD 5870 became available for sale in the Apple Store. The card sports 1GB of GDDR5 memory and costs $449.
Though listed requirements state that the card will only work with a mid-2010 or early 2009 Mac Pro with a PCI Express 2.0 slot, reports have indicated that the ATI Radeon HD5870 will also work with the early 2008 Mac Pro desktop.