Apple offers up to $100 savings on refurbished iPads for limited time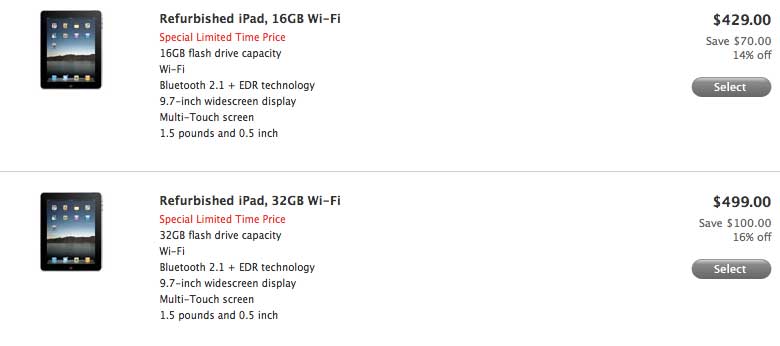 Apple this week further reduced the price of its refurbished Wi-Fi iPads, with the entry-level 16GB model now selling for $429, and 32GB for $499 as a "special limited time price."
The new pricing applies only to the Wi-Fi-only models. At $429, the 16GB Wi-Fi iPad is now $20 cheaper than the usual refurbished price, and $70 less than the price of a new model.
Discounts on the higher-capacity iPads are even greater. Customers can buy the Wi-Fi 32GB iPad for $499, a savings of $100 over a new model. Apple is also offering the refurbished 64GB Wi-Fi model at $100 off, for $599.
Apple has not increased its discounts on refurbished 3G models. Those devices are available at $50 off in all three capacities, starting at $579 for the 16GB model.
All refurbished iPads are tested and certified, and come with a 1-year warranty from Apple. They also include a brand new battery and outer shell. Refurbished orders also come with free shipping.
Apple first began selling refurbished iPads in September, with all six models available at a $50 discount. Prior to that, Apple did not offer refurbished iPads, and many retail stores were sold out of the touchscreen tablet for months.