Apple's iPhone could be last standing in smartphone 'race to the bottom'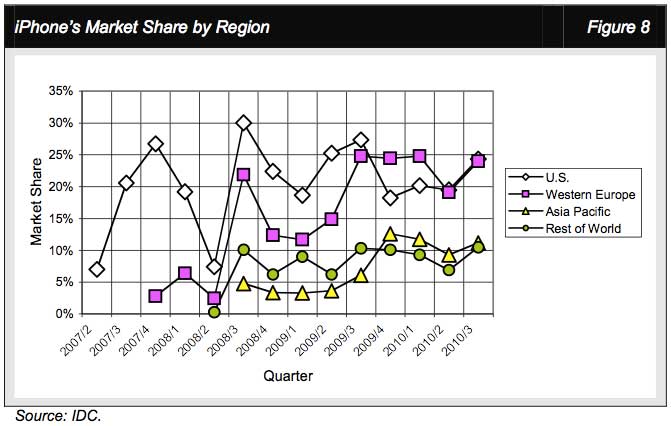 AppleInsider is supported by its audience and may earn commission as an Amazon Associate and affiliate partner on qualifying purchases. These affiliate partnerships do not influence our editorial content.
Google's Android and Microsoft's Windows Phone 7 will compete for presence on handsets in a smartphone market "race to the bottom," one that could leave Apple's iPhone as the "last man standing," one prominent Wall Street analyst believes.
Charlie Wolf with Needham & Company issued a note to investors Friday in which he declared the "successful launch" of Windows Phone 7, the new mobile operating system from Microsoft. He expects Microsoft and Google to compete aggressively among the leading smartphone manufacturers, including HTC, Samsung, Motorola, LG and Sony Ericsson.
"In the short run, the turf war could put the smartphone manufacturers in the driver's seat," Wolf wrote. "Ultimately, however, commoditization, accompanied by deteriorating prices and gross margins, appears inevitable for licensees of the Android and Windows Phone 7 operating systems.
"With its growing brand equity, the iPhone could end up as the last man standing in this race to the bottom."
Wolf doesn't expect that much will change during the December quarter in terms of market share. But he believes the ramp of Windows Phone 7 in early 2011, along with the anticipated launch of the iPhone on the Verizon network, could result in a very different landscape come March.
Wolf noted that the Windows Phone Facebook app had just 135,000 active users as of Nov. 30, which could be an indication of how many handsets Microsoft has sold. While those sales are nowhere near the record sales pace of Apple's iPhone, Wolf believes Microsoft's company-wide $500 million marketing budget will play a major factor.
"We suspect the company will devote a material portion of it to buy the support of the leading smartphone manufacturers," Wolf wrote. "Indeed, if Windows Phone 7 is successful, it's difficult not to conclude that the Android platform will be impacted more than any other operating system because of the similarity of the two licensing models."
And if the iPhone does launch on the Verizon network in early 2011 as expected, Wolf believes that Android will suffer the most.
"Android benefitted from the absence of the iPhone on the Verizon network, because the carrier spent heavily to promote the platform as an alternative to the iPhone," he said. "Android effectively moved into a vacuum created by the implosion of Windows Mobile."