22 months after announcement, Google Latitude app comes to Apple's iPhone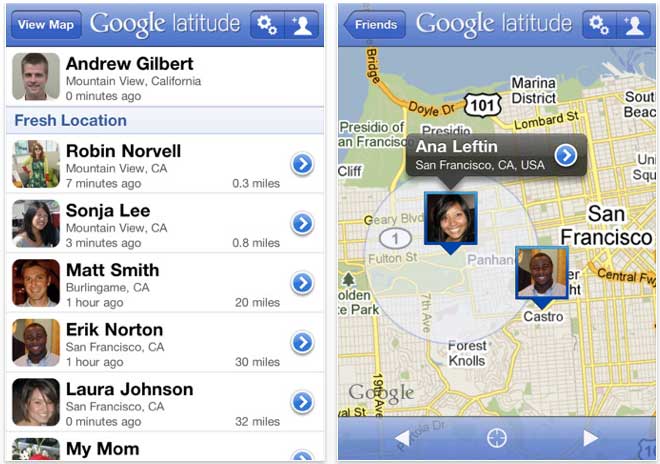 First announced in February 2009, the Google Latitude application for iPhone — previously rejected from the App Store — has been approved and is now available.
The free application (iTunes link) allows users to see where their friends are at the moment, and share their current location as well. Google Latitude uses the multitasking capabilities of iOS 4 and the iPhone 4 and iPhone 3GS to share a current location in the background via GPS.
Features of Latitude, listed by Google, are:
See your friends on a map — find out who's nearby and meet up.
Share your location continuously with whomever you choose — help friends and family stay in touch with you, even when you can't take out your phone.
Control your privacy — share only city-level information, hide your location, or turn off background updating at any time.
The approval of Google Latitude marks the second high-profile reversal for Apple in reviewing the search giant's iPhone software. In November, the official Google Voice application for iPhone was approved after more than a year of rejection from Apple.
Google Latitude was first announced in February 2009, when the search giant revealed its plans to release the software for the iPhone via Apple's App Store.
Google, in its dispute with Apple over the Google Voice application, revealed last year to the Federal Communications Commission that the Google Latitude software was initially rejected because Apple believed the software could replace the native Maps application included with the iPhone. Apple also expressed concern that the software would "create user confusion" with the preloaded Maps software.
The rejection, plus the lack of multitasking on the iPhone at the time, led Google to release a Web application that allowed users to access the Latitude service through the Mobile Safari browser.
Apple softened its stance on Google's iPhone applications after it published the App Store Review Guidelines in September. The candid document summarizes Apple's policies on iOS software, and noted that applications that "look similar to apps bundled on the iPhone" would be rejected.