Apple launches 12 Days of Christmas app in Europe, Google Voice updated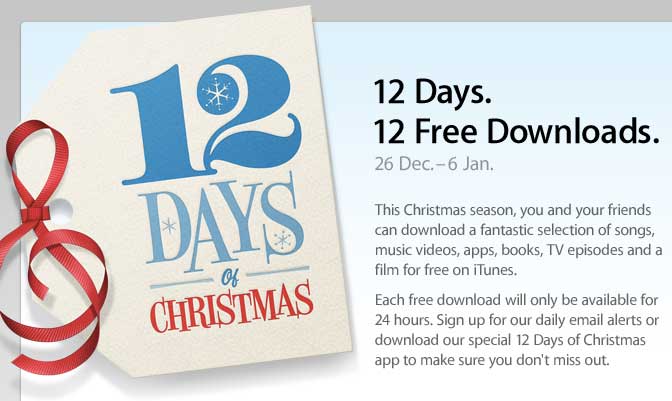 Apple on Tuesday announced its annual "12 Days of Christmas" holiday promotion for the iTunes Store in Europe, accompanied by an official iOS application. Also, the Google Voice app was updated to support initiating calls from an iPad or iPod touch.
Apple's 12 Days of Christmas
Apple's new 12 Days of Christmas app (iTunes link) allows users to download a free gift from iTunes every day from Dec. 26 to Jan. 6. The universal iOS application will offer users one free download every day for the 12 days.
Apple holds its 12 Days of Christmas promotion every year, though it is restricted to some countries in Europe and is not available in the U.S. As it is every year, the content is unknown ahead of time, but Apple offers a variety of content that could include a free song, music video, app TV episode or film.
"Each free download will only be available for 24 hours," Apple said. "Sign up for our daily email alerts or download our special 12 Days of Christmas app to make sure you don't miss out."
Google Voice gains Click2Call for iPad, iPod touch
Google on Tuesday updated its official Google Voice app (iTunes link), bringing Click2Call support. That means iPad and iPod touch users can run the application and initiate calls on a separate phone.
Calls cannot be made through the application, but users can initiate the call by entering a number to dial. The call is then connected with a Google Voice registered phone tied to the account.
iPad and iPod touch users can now send and receive free text messages as well from within the free application. A Google Voice account is required to use the service.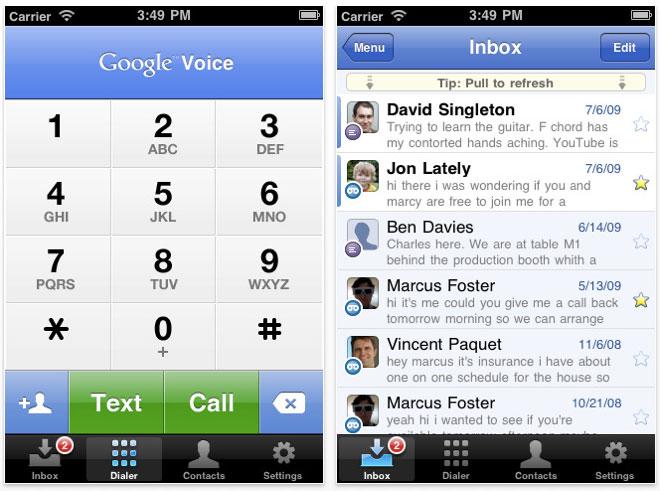 The search giant also enabled new features and fixes in the newly updated Google Voice application, which is a 3.2MB download:
Enabling Push Notifications, automatically disables Text forwarding, preventing multiple notifications.
Users can send all callers straight to voicemail by turning on Do not disturb in the Settings tab.
It's easier to place calls from the address book by adding a dedicated Contacts button to the Dialer tab.
Sending text messages is now more streamlined, as users don't need to press the OK button anymore.
The Google Voice application arrived in the App Store in mid-November. It was previously the subject of a controversy and a U.S. Federal Communications Commission investigation after Apple did not approve Google's App Store submission.