Google Android stalls, remains tied with Apple's iOS in ad impressions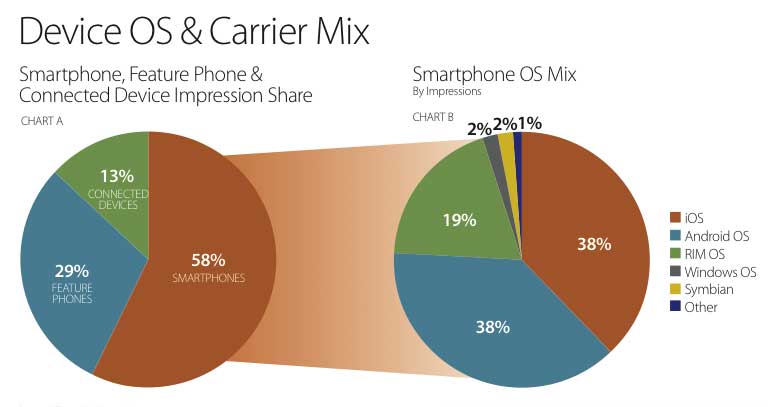 AppleInsider is supported by its audience and may earn commission as an Amazon Associate and affiliate partner on qualifying purchases. These affiliate partnerships do not influence our editorial content.
After seeing months of growth at a blistering pace, Google Android remained tied with Apple's iOS in November smartphone ad impressions.
Millennial Media on Tuesday released its MobileMix report detailing statistics from November 2010. Both Apple and Google remain tied in terms of operating system mobile ad impressions seen by the advertiser's network, with each platform taking 38 percent of the market.
It's the same situation as in October, when both Android and iOS commanded 37 percent of the smartphones seen by Millennial's mobile ad network. Apple and Google have been crowding out competitors as they take up larger shares of the market.
In November, both iOS and Android ticked up a notch, at the expense of its competitors. Research in Motion's BlackBerry line took 19 percent of the share seen by Millennial, while Microsoft and Nokia each represented just 2 percent.
That Apple and Google remain tied in November is noteworthy, because previous reports showed Android experiencing tremendous growth, suggesting it might far eclipse Apple's iOS. For example, in September Google represented just 29 percent of Millennial's mobile advertising impressions, well behind Apple's 46 percent. And in August, Android was at only 26 percent.
In April, the iPhone represented a commanding 70 percent of Millennial's smartphone traffic. The company became the largest independent mobile advertising network after Google acquired AdMob.
The November report also found that Apple remains the top device manufacturer, representing 25 percent of all the mobile devices tracked by Millennial. The iPhone was the most-used hardware, with 14.28 percent in November, followed in second place by the iPod touch at 8.96 percent. The iPad came in seventh, representing 1.76 percent of devices seen.