Demand for Apple's iPad helps online computer sales increase 25 percent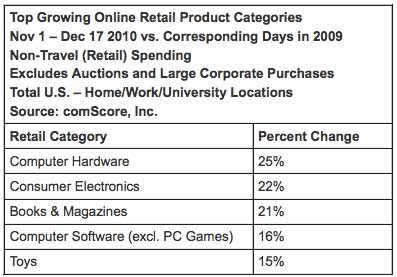 Online sales of computer hardware increased 25 percent year over year in the first 47 days of the 2010 holiday shopping season, thanks in part to the popularity of Apple's iPad.
The iPad was singled out in a new report released Sunday from comScore. The research firm found that $27.46 billion has been spent online in the current holiday season, led by computer hardware as the top-growing category from 2009.
"Purchases of handheld devices (such as Apple iPads and e-readers) and laptop computers drove much of the growth," the report said.
Computer hardware grew 25 percent in 2010, outpacing consumer electronics, which grew 22 percent. Books and magazines saw 21 percent growth year over year, while computer software (excluding games) grew 16 percent.
Actual iPad sales for the holiday season likely won't be revealed until Apple reveals its quarterly earnings in January. The company sold 4.19 million iPads in its previous fiscal quarter, and expectations are even higher during the holiday quarter, as Apple has expanded retail availability of its touchscreen tablet.
comScore said that the increase in 2010 holiday sales was greatly aided by the promotional "Free Shipping Day" held by many online retailers. On that special event alone held Dec. 17, online sales were $942 million.
"Free Shipping Day punctuated an exceptional week in which consumers spent more than $5.5 billion online, representing a 14-percent increase from last year," said comScore chairman Gian Fulgoni.
"While no individual days during the week surpassed $1 billion in spending, we saw strength throughout the week beginning with Green Monday and ending with Free Shipping Day on Friday. At this late juncture in the online holiday season, we have likely already witnessed the peak spending day of the year, which means that Cyber Monday should emerge as the season's heaviest online spending day for the first time in history."