Virgin's iPad 'Project' goes free as app subscriptions fail to materialize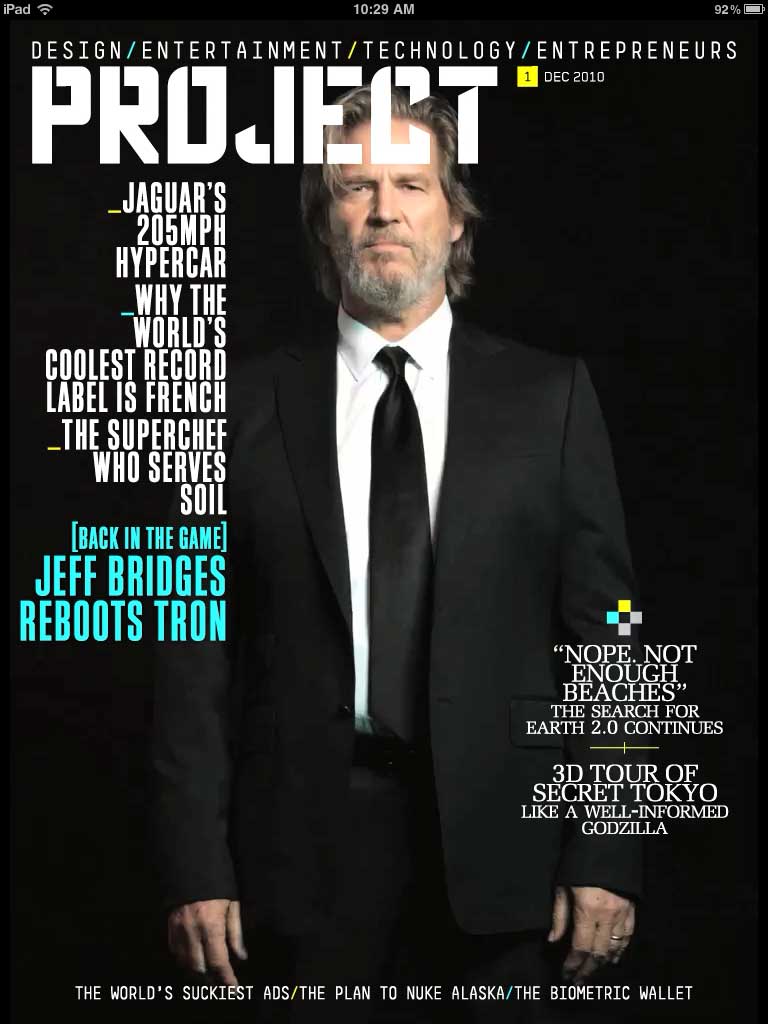 AppleInsider is supported by its audience and may earn commission as an Amazon Associate and affiliate partner on qualifying purchases. These affiliate partnerships do not influence our editorial content.
Starting Thursday and running through Dec. 29, the first issue of the new iPad-exclusive Project magazine from Richard Branson's Virgin Group is available for free, giving iPad owners a taste of the interactive digital publication.
Courtesy of Virgin America, Virgin Blue and Virgin Mobile Canada, the first issue of Project is now available for free (iTunes link). Users can get the Project application from the App Store for free, and individual issues are available for download from within the app.
The magazine offers unique features that can only be accomplished on an iPad. For example, one story has readers use their finger to push away dirt to reveal the headline "Eat My Dirt," about a Danish chef who runs a restaurant ranked as the world's best.
A profile on Academy Award-winning actor Jeff Bridges has the star of "Tron" and "True Grit" walk onscreen along the shore of a beach before the text accompanying the first paragraph of the story appears. And advertisements are interactive, too, with a Lexus ad that invites users to "touch to explore the world's most advanced driving simulator."
When the application first launched at the end of November, the debut issue of Project cost $2.99. The magazine also debuted before Apple is rumored to offer recurring application subscriptions, which would allow digital publications like Branson's to offer annual subscriptions.
One report said Apple could hold a media event to unveil the subscriptions as early as Dec. 9, though that rumor failed to materialize. It has been suggested that a new tablet-only newspaper from News Corporation, dubbed The Daily could be introduced alongside a new App Store subscription option. That publication is expected to arrive on Jan. 17.
Because the ability to offer application subscriptions will likely require a new application programming interface, Apple is rumored to be working on an update for its iOS mobile operating system. Rumors in November said iOS 4.3 could arrive in December, but they too failed to materialize.