Skype for iPhone video calling now available; volume shutter app removed
As expected, Skype has added a new video calling feature to its iPhone app, giving users an alternate service from Apple's own FaceTime video chat standard. Meanwhile, an app that remapped the iPhone's volume button to serve as a shutter button has been quietly removed from the App Store.
Last week, reports emerged that Skype was planning to make "a series of video-related announcements" at next month's Consumer Electronics Show. A support document detailing how to make video calls via iPhone served as further evidence of the imminent release of a video-capable Skype iPhone app.
An update to the Skype for iOS app Thursday now enables users to make Skype to Skype video calls over WiFi and 3G with other iOS Skype users or Skype desktop users, Engadget reports. Two-way video calls are only supported on the iPhone 4, iPhone 3GS and fourth-generation iPod touch, while iPad and third-generation iPod touch users can receive video calls. Video calling on Skype 3.0 requires iOS 4.0 or above.
Skype's launch of video chat on the iPhone and iPod touch will challenge Apple's efforts to get its FaceTime video conferencing standard to catch on. With over 500 million user accounts, Skype has the user base needed to promote rapid adoption of its video call features over Apple's FaceTime.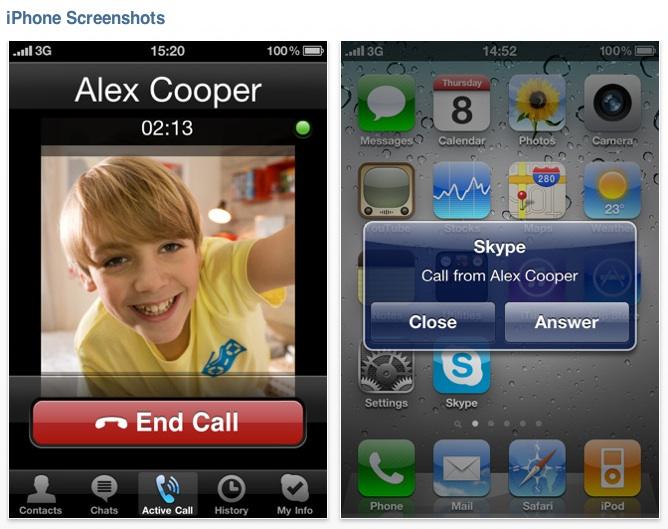 However, if Skype is to take on Apple over video conferencing, it will need to shore up its servers in preparation for the increased traffic. A software bug on older versions of Skype for Windows caused an embarrassing massive outage of the Skype service last week, lasting 24 hours. As a conciliatory gesture, Skype is reportedly offering 30 minutes of talk time to some users affected by the outage.
For its part, Apple has moved aggressively to bring FaceTime to the bulk of its devices. In September, Apple updated the iPod touch to include a forward-facing camera and FaceTime capability. In October, Apple announced it was bringing FaceTime to the Mac.
Rumors abound that the second-generation iPad will include FaceTime-ready cameras when it is released next year. In September, AppleInsider exclusively reported that a FaceTime-enabled iPad had already advanced to testing stages and remained on track for an introduction "no later than the first quarter of next year."
Apple built Facetime using open standards, including IETF standards and familiar codecs such as H.264 video and AAC audio, in the hopes of establishing it as the dominant service in the emerging video call market.
The" Quick Snap - Camera Plus" app has been quietly taken down from the App Store, with a short-lived run of just two weeks. The developer's Twitter account and Facebook page have yet to provide an explanation for why the app was removed, but the fact that the app was approved at all is itself a fluke.
Released on Dec. 15, "Quick Snap" appeared to violate Apple's developer agreement, which forbids button remapping. The popular "Camera +" app was pulled from the App Store in August for including an 'easter egg' feature that reconfigured the volume button as a shutter button. "Camera +" returned to the App Store last week with a version 2.0 update packing more than 50 new features, but no sign of the "VolumeSnap" feature.