Apple's holiday iPhone, iPad and Mac sales stronger than expected - report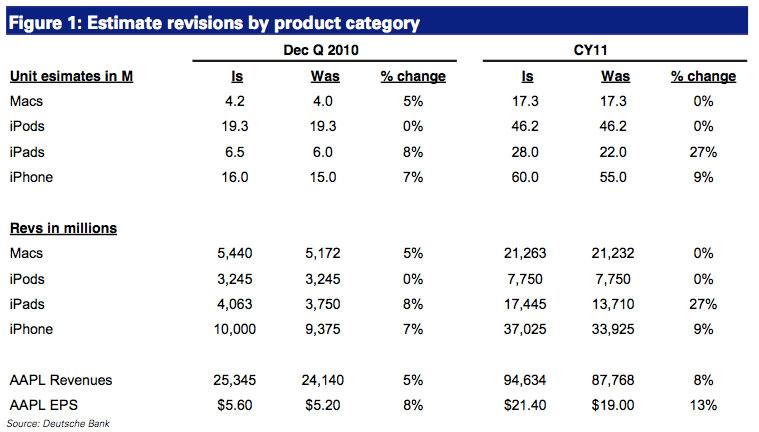 AppleInsider is supported by its audience and may earn commission as an Amazon Associate and affiliate partner on qualifying purchases. These affiliate partnerships do not influence our editorial content.
Apple is poised to report yet another record-breaking quarter this month, with channel checks indicating sales of the company's iPhone, iPad and Mac computers are tracking ahead of already lofty expectations.
Analyst Chris Whitmore with Deutsche Bank said in a note to investors on Tuesday that checks over the holidays indicated that Apple saw better-than-expected demand for both the iPad and the Mac. In addition, consumer demand for the iPhone showed no signs of slowing down, even as rumors of a Verizon iPhone loomed over the holiday buying season.
Over the holidays, Deutsche Bank checked in at more than 50 Apple retail and partner stores, and found lines and crowds driving "robust" demand for the iPhone. Despite this high demand, these checks found Apple was well prepared, with few stock-outs ahead of Christmas.
Whitmore said demand for the iPad, which remains "largely unchallenged" in the market, is tracking ahead of his model, and has accordingly increased sales estimates from 6 million to 6.5 million for the fourth quarter of calendar 2010. He also sees Apple selling 28 million iPads in 2011, up from his previous estimate of 22 million.
Checks suggested that the 32GB iPad with 3G connectivity was the most popular seller during the holiday season. And the attractive $999 price tag of the new 11-inch MacBook Air also prompted noteworthy demand.
"Apple continues to benefit from the strongest product offering in its history and the strong double-barreled product cycle is driving massive global demand for iPads and iPhones," he wrote. "Both categories are benefiting from additional carriers, international expansion, and limited competition."
The analyst also upped his iPhone sales projections for the holiday period to 16 million, up a million from the previous estimate of 15 million. He now expects Apple to sell 60 million iPhones in calendar year 2011, up from 55 million.
Whitmore's estimates do not, however, include the prospect of a Verizon iPhone, widely reported to become available in early 2011. He believes that the addition of Verizon as a U.S. carrier could bump Apple's iPhone sales up by 5 million to 7 million units.
"We expect a CDMA based iPhone to be a significant positive for AAPL with limited cannibalization at AT&T," he said. "Our DB colleague Brett Feldman, who covers Telecom Services, estimates that Verizon will add roughly 15M iPhones in 2011 with 6M cannibalized from AT&T."
Wall Street analysts will continue to share and revise their predictions in the weeks to come on what is generally expected to be another record breaking quarter for Apple. The Cupertino, Calif., company is set to report the earnings for its first fiscal quarter of 2011 on Tuesday, Jan. 18, and AppleInsider will have full live coverage as it happens.