Apple set to open Mac App Store at noon Eastern on Thursday - report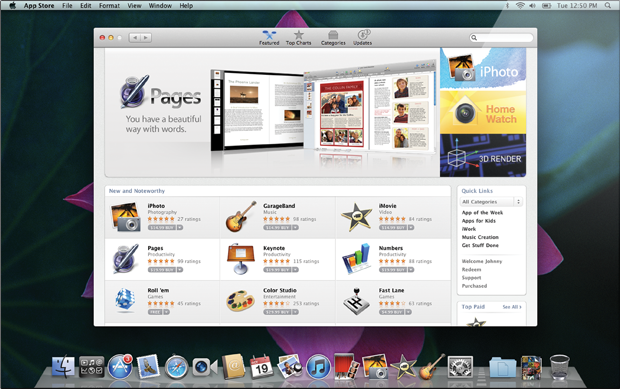 Apple's much anticipated Mac App Store will open for users of Mac OS X Snow Leopard at noon Eastern time on its previously announced launch date of Thursday, Jan. 6.
Citing sources, Jim Dalrymple of The Loop reported Wednesday that Apple will officially open the service at 12 p.m. Eastern, 9 a.m. Pacific. When the Mac App Store was rumored to have an early launch in December, he correctly reported that it would not arrive until January 2011.
Apple first announced the Mac App Store in October, and promised a launch within 90 days. The digital download destination will serve as a Mac OS X counterpart to the iOS App Store for the iPhone, iPod touch and iPad.
The App Store will allow users to download and install applications with just one click, like on iOS devices. Developers will also be able to take a 70 percent cut of sales through the digital storefront, while Apple keeps 30 percent.
Like on iOS devices, software will be remotely hosted by Apple. But once applications are installed, they will run locally, like traditional software.
Developers this week have been preparing for the launch of the App Store, and many of them plan to keep the low pricing model that has been employed to great success on the iPhone App Store, according to an informal survey.
In contrast, in its own promotional materials, Apple has shown its iLife applications with a price of $15 each, while iWork apps were shown being sold individually for $20. When combined, those prices are comparable to what customers would pay for the full retail versions of iLife and iWork for Mac.